I Thought Sellotape Dispensers Were Supposed To Make Life Easier

Carlisle, England
December 3, 2012 3:21pm CST
We've all seen them haven't we? Those cute little plastic sellotape dispensers. Yesterday, in buying all those decorations in The Range I decided to buy some sellotape as well. You only live once. Haha! John spotted a 3-pack and all the dispensers had sellotape in. "That should last us about 5 years," I thought to myself.

Anyway, after tea tonight I decided to wrap up my brother's Adidas pants I bought him a while back with some awesome paper I've had for years! I opened up the 3-pack of sellotape dispensers and tried using one of them. The grated thingy at the end WOULDN'T CUT THE SELLOTAPE! All that happened was the tape went all crinkly and out of shape without being cut. Drove me nuts. In fact, I even tried to grate my finger on the serrated edge ON PURPOSE just to see how sharp it was. The bloody thing wouldn't cut butter it was so poor. I know that Health and Safety is important and we don't want fingers chopped off..but, for heaven's sake..Christmas is stressful and we all want to wrap presents up as quickly as possible. A sellotape dispenser that doesn't work properly FROM DAY ONE isn't my idea of a stress-free wrapping experience. I tried the other two, exactly the same. Grrr!

Fortunately, we had another sellotape dispenser from the lovely W H Smith (who specialise in such equipment) so John put one of the new sellotapes into the W H Smith dispenser and.. 'Voila!' It worked perfectly. The serrated edge actually cut the sellotape like it should do. Fancy that! I don't mind buying cheap tat but whenever tat doesn't work I get really cross. How about you?

5 responses


• Carlisle, England
4 Dec 12
To cut the tape from the dispenser using scissors..well, it doesn't bear thinking about lol. I'm a bit accident-prone as it is.



•
4 Dec 12
Hi Janey... Yes, I have one of these dispensers bought in WH Smith and it's been around here for several year now working every time. And yes, I have bought these so-called bargains. One was a pack of screws from a "cheap" shop but when I put the screwdriver on them, the head broke up as soon as the screws got tight. Absolute waste of time and effort meaning I had to spend money on petrol to do an extra journey to B & Q which is about 10 miles away to get some good quality screws. They are not always bargains and perhaps it is just a little man in his garden shed producing some stuff out of scrap to earn a few bob who then will go to a "proper shop" to buy some for himself.

_Derek

• Carlisle, England
4 Dec 12
Hiya Derek. You mean to say you managed to buy some 'quality screws' from my pet-hate shop, B&Q? I'm amazed!!


•
5 Dec 12
Hi Janey.. Yes, strangely enough I did..

Well.. they ought to be able to get a simple thing like screws right.. I buy most of the best stuff from Screwfix. Service is a pain in there because everything is ordered from the counter, but I got to admit they sell quality stuff in my experience.


• St. Catharines, Ontario
3 Dec 12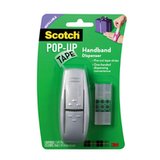 Good thinking on John's part. I'm sure you would have thought of it yourself eventually. There's some pre-cut tape that kind of pops out of the dispenser that you wear on your wrist. I never used it, but it's supposed to make wrapping easier.

• Carlisle, England
4 Dec 12
Wow, I didn't know this was still being made. I've heard of Scotch tape, of course but I didn't realise the wrist one was still around. John says they use Scotch tape at work but I bet it's not made here. What's the betting it's now made in the erm..Far East?

• St. Catharines, Ontario
4 Dec 12
Scotch brand is made by 3M. I believe it's still made in the states, but I could be wrong.

• St. Catharines, Ontario
4 Dec 12
I checked a package in the grocery store today. It said, "Made in the USA from globally sourced materials." Make of that what you will.


• United States
6 Dec 12
I have one of those dispensers that doesn't tear off properly. Occasionally it does work if I use the correct 'physics' on it. But most of the time I just grab scissors and snip it. I use tape quite a bit and have several different dispensers. I also hate it when I do the tear-off and then it ends up sticking itself to the roll before I can get my finger under it to stop it. I usually manage to grab it and fold down a tiny corner to keep it available to pull off for the next time.

• Carlisle, England
9 Dec 12
Life was so much simpler WITHOUT dispensers..do you know what I mean? How did they come about? We're better off without them.


• China
5 Dec 12
Here,I haven't seen one made up of sellotape and dispenser except the rolls of sellotape .I mainly use the sellotape to paste the book page with tears on it.The beauty of it is that it doesn't cover the characters.

• Carlisle, England
5 Dec 12
Yes, we did once cope without the dispensers and we were calmer for it, so long as we had scissors on hand to help us out. I wonder when scissors will no longer be sharp enough to cut things; it's only a matter of time!