Is only women asked how are looking her after makeup while she is going in party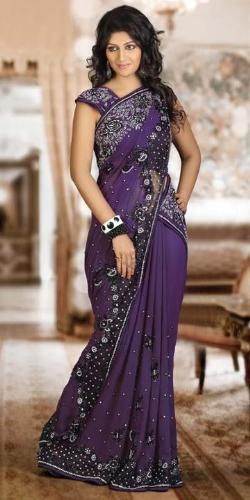 India
December 11, 2012 8:18am CST
Yesterday I was in marriage reception party when we all women are ready for party everyone (including me) asking to each other how are looking me? Then other says yes looking good then ask how is my sari then she again says nice. Everyone asking not only me and my sari was purple color like uploading the photo. I think this question asks only women not asks men to each other. Because they not spend more time for makeup and they not spend more money on ornaments or makeup things. They wear only paint and shirt and ready.
8 responses

• Thailand
11 Dec 12
I put make up whenever I will attend to any party. But I don't ask anyone if I look good or what. I knew already that I look great. like this one ----

LOL. I mean, the last make up I usually put on is my lipstick... then I know that I am okay already. I don't bother anyone to look at me and ask their opinion on how I look.


• Thailand
11 Dec 12
that's the main reason why i don't ask from another woman miss deazil.. for sure there is something she will see that is not right.. like missing eyelashes, uneven blush on.. grrrr..

I don't like to go back to mirror and retouch. I am scared of my reflection LOL Miss Deazil I have to go, I feel

just look for my traces, and footprints you know where I went. Is it by any chance you were one of the agents in Charlie's Angels?

just wondering..

• India
11 Dec 12
Mavic beauty is not only by looks by heart also if a women is more beautiful but proudy and talking with anybody then that is not beauty. Mostly I forget to put the lipstick. deazil is right mavic you are look good. Why not upload profile photo. Every women is beautiful but some are more and some are less.


• India
12 Dec 12
Hey this is not only you all the ladies asked either their Husband or daughter or sister how she looks after she put the make on her face. Such question she will never ask when she goes to market or office, but when she is going to any party without fail she will ask atleast 4 times before leaving the home and before entering into party hall "How she looks in the makeup? Even though she puts on the make almost every day

• India
13 Dec 12
Ohhh yes all women ask this question but men not ask to anyone because they know they not need from anyone compliment. Yes when women going in party ask this question because she wants in party everybody should pay attention on her looks heheh...

just joking

• India
7 Jan 13
You are correct and you know why they are asking this question? They want to or like to confirm with other ladies is she really good beautiful or not. Such habit each and every lady is having in them

• China
11 Dec 12
It is so commom for a woman ask how do you feel my dress or my make up? Is it beautiful enough or is there something wrong? All the things women focus on is beauty. For me, nature and reality is beauty. have a nice day. From the picture, I can see it is really a beautiful woman.

• India
11 Dec 12
But why men not ask this question and I notice if we receive any negative response like dress is not or not looking good then feel bad also. Yes this is a beautiful women but sari is more beautiful than her.

• India
11 Dec 12
I agree if they say it not or any negative remarks then we feel so much


• Philippines
27 Dec 12
I kind of disagree, i think there are some men who even spend more time in the bathroom than the ladies, fixing their hair and their clothes and putting on cologne or perfumes.. it is actually funny.

although i don't think they ask each other how they look.

• India
9 Jan 13
Hehehe...dear friend you are right some men like my danger and sweet hubby spend more time in bathroom and always take comb for hair setting look in mirror again and again but this exception cases. Because most of the men not ask this question but mostly women ask again and again she is looking good or not.

• United States
13 Dec 12
I think it is simply because of the fact that women want to always look nice when they are going out in a social situation. Me, I am not one of the people that is always doing that because I've always been the kind of girl that felt like people should accept me no matter how I look. I am who I am and I don't make a habit of trying to be someone that I'm not. But, I am also in the minority in that view that I have.

• India
9 Jan 13
Hmmm you are right because women always wants to look nice and she wants most of the friends or family members should say she is looking good. So ask again and again and every person. But I have no such habit to ask this question friend you have such habit.

• Philippines
12 Dec 12
I guess it would be weird if we hear men saying these stuff to each other lol its just not so masculine of them to do so, but for women, it is natural for us to say these stuff with each other as we are really that particular when it comes to these stuff unlike men.

• India
12 Dec 12
Hehehe....men cant wear the sari so they cant ask this question because no wear the ornaments. But in marriage party the girl's mother do this wearing the sari of boy's father give the ornaments for wearing for few minutes. A child also gives in her hand everyone laughing this is also a tradition in our community. Only for just joking.

• India
11 Dec 12
Hi, Hmm yes its so common. This may be because we put up all the extra things so we want to make sure how we look . But men on the other side don't use anything like us so they are not bothered about the same.


• India
12 Dec 12
Yes women purchase lots of ornaments so after checking her beauty she feel happy after all she spend lots of money for their beauty like do the facial, cutting the hair etc.

• Philippines
11 Dec 12
It is very common for women to ask the others how does she looks dear sis. And I check the sari- it's sooooooo lovely. I really wish to have one...




• India
12 Dec 12
This is common only for women not for men they never ask how they are looking. Women are very sensitive regarding their looks.