Do you think that there will be Taken 3?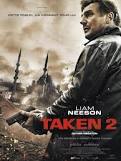 Guangzhou, China
December 28, 2012 12:56am CST
I watched Taken 1 before and lately I watched Taken 2. It is a nice movie and I didn't want to miss every scene when I was watching this movie. And it is likely to have Taken 3 because this movie is still attractive. And the bad guys still have sons and that means to say they will take revenge later.
9 responses

• India
1 Jan 13
Hi youless. Well I saw the taken movie and i must tell you that it was one of the best revenge movies that I ever saw. But I heard from my friends that Taken 2 was not good. So I got a little demotivated and have not watched the movie yet. I hope Taken 3 if made will surpass both the earlier versions. I love revenge movies. It pumps adrenaline into the body. Anyways have a nice day and wish you a very happy new year... -=SuperShames=-

• India
7 Jan 13
Hi youless. Well in that case I think it is worth watching. But in comparison with the first edition of Taken which one did you like better?? Anyways have a nice day ...

• Philippines
28 Dec 12
I don't think that the same people will be the villain, but it could be.. since they are a lot in that place, and he could have lots of relatives.. but then it would not work anymore, the people won't like it since it's getting boring.. I hoe to see a 3rd one though, since it's still a good and fun movie.


• Philippines
30 Dec 12
That is kind of dumb.. the son in law being kidnap, kind of makes him look weak..

and troublesome too.. maybe Liam needs to be kidnapped and his daughter can save him without his help, and maybe ask help from his spy friends.

for a change.

• Philippines
1 Jan 13
I never saw both movies fully. I know the movie is good but... I don't know, maybe I dislike the drama. The first movie was really touching. I can really feel how the father loves his daughter and went through all odds just to get his daughter back. The second movie was awesome too. I got to see the daughter in action. This time it's more of teamwork between father and daughter! I don't know if there will be taken 3. Seeing as to its success and fame, I think they will continue making another sequel.

• United Kingdom
29 Dec 12
I still haven't seen the first film Taken yet, I bought it cheaply at HMV before Christmas, it was knocked down to £3, it's not a film my mum would be interested in, so we've been watching dvds all over Christmas. I might get around to watching it in the new year. I love films about revenge.

• United States
29 Dec 12
It's possible. The Taken movies have definitely become very popular. Before Taken 2 was even announced, I did not think Taken would have a sequel. I am not saying the first one was bad, but I did not think there was potential for making one. The idea of a sequel after Taken 2 might be nice.

• India
28 Dec 12
I just don't know we need to wait and watch but i guess the they may shoot another part as Taken 2 ends with a new beginning.I feel the movie will have change in people playing the characters.


• Thailand
28 Dec 12
I like Liam Neeson. He is one of my favorite actors. I fell in love with him since Shindler's list. I just hope that he will be the actor in the next Taken movie.

•
28 Jan 13
Time will tell, haven't seen Taken 2 yet but it is on my list. We just went and saw Parker last night, it was pretty good.