I have had three packs of Doritos in a row tonight.

Philippines
January 20, 2013 10:35am CST
Since I can not indulge in my cravings tonight because my husband is feeling under the weather.He turned in unusually early tonight.And there's no way samyapsal can be delivered at home, so I just went to the kitchen and luckily found out packs of Doritos inside the kitchen cupboard. I am having msg overdose now lols.
9 responses

• United States
20 Jan 13

that is a lot. It is nice to be able to have snacks that we enjoy.For me I enjoy pie. I shouldn't really ever have pie in the house. Throughout the whole day I could eat a whole pie to myself not sharing with anyone else. That is how good pie taste to me.

• United States
21 Jan 13
thats how it is when I make pumpkin pie. I dont like to share it


• Philippines
22 Jan 13
@Marie
,I have never eaten pumpkin pie before.I hope it tastes better than just plain pumpkin.Pumpkin is the vegetable I like the least.

• Philippines
20 Jan 13
Hahaha! Did you have soda with it? That is one reason why I'd rather not keep those tempting junk food around the house coz I have the tendency to eat them all in one sitting, together with a bottle of soda!

• Philippines
21 Jan 13
Yes I ate them together with soda :)

• Philippines
21 Jan 13
aha!!!! Calories galore!!!! What a way to start the new year!


• Philippines
21 Jan 13
I like Doritos too. I like to top it with cheese and some meat (a bit spicy and hot will do) Now I am craving for some... But I need to refrain cause I am watching my diet



• Philippines
2 Feb 13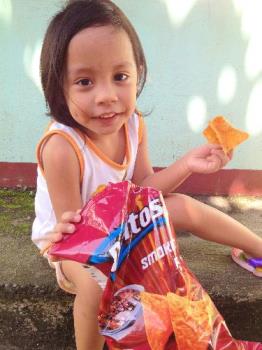 Haha it's good to indulge sometimes. For me the third time is the last straw because I can be sensitive to some foods. I love Doritos and Lay's. During grocery time if we still can squeeze it in in our budget we would include these two.



• Greece
20 Jan 13
Reading your post made me really hungry and now i have to out of the house to buy Doritos too. It's lucky that you even found food in your house. I'd better do some stocking of food too as i always get hungry at night.