are you enjoy with your life?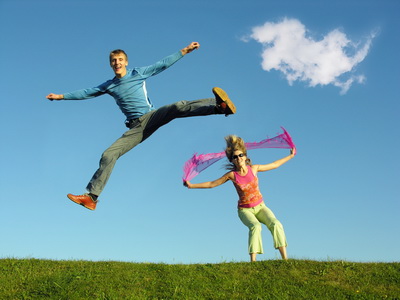 Indonesia
January 23, 2013 7:02pm CST
life is very beautiful if we enjoy. but some people take different look of their perspective about their life. so my question is what makes you stay strong to face all problem of life? what makes you enjoying life despite a lot of problems you have? are u enjoy with your life now?
9 responses

• Philippines
24 Jan 13
I always pray to face the challenges of life. Without God I can't do anything and I'm nothing. I enjoy life with God and my family. Though there are some obstructions I see that God is helping me. Every morning I wake up is a new day for me. I forget the troubles or problems I have and when new day comes I'm renewed again. This makes my life enjoyable.


•
24 Jan 13
For me prayer is the strength giving tonic. I will always face challenges with courage. Life has to be enjoyed , I try to make use of the opportunity when it comes. I think the outcome of any problem will be two always - success or failure. If i succeed it is great, if failed i analyse other possible ways . As the saying one door is shut, the other opens. But always i make a point to give a try, on whatever i have taken a decision. I am enjoying life very much

• Philippines
24 Jan 13
Life has never been perfect for me. But my kids are reason enough for me to hold on to life. I may not be enjoying much as I would want to, but I am fine. Just as long as my kids are healthy and safe, then I'm okay.

• United States
24 Jan 13
yes, so far i am enjoying my life. even i dont have a job right now, but i always being grateful and i know that because God loves me. i saw so many poor and sick people and they are much more suffer than me. everybody have to face the problem but if you in God, you can solve each problem in this life. just being grateful, so you will feel enjoy.


• Legaspi, Philippines
24 Jan 13
Hi jiro! I have a lot of ups and downs in my life. But I always consider it as an enjoyable one. Life will always be beautiful. Have a nice day!

• Indonesia
25 Jan 13
thank you.we must keep holding on.and always be strong,have a nice day too

• Philippines
24 Jan 13
jirojoyman, First of all,I'am very much thankful to my CREATOR that i have given a change to live in this world.My family is the reason why i'am strongly facing all the struggles and hardship in life.By believing myself instinct,have faith to GOd and in my abilities,I also faces and accept new challenges and desires only the best....wow i've got what it takes. For my status now that i'm done with my children. Me and my husband just enjoy the company of each other.WE go on local tour if i do have a budget,Planning for outside the country tour after my hubby's retirement and surfing online for my freetime at home. "Enjoy your life to the fullest".....this is what my children wanted me to do for the rest of my life...

• Philippines
24 Jan 13
i am. Thank God for that. I recently moved in to this town. I first find the place quiet, boring and not too convenient. I found a job and became accustomed to what i do on a daily basis. The job is not the superb job in the world but i came to appreciate what i have. And as usual, there are people u dont like but doesnt give d*mn thing about them. There are places u appreciate and keeps on coming back there once in a while to relax. I surround myself with people that makes me laugh and smile even when theyre not around. This is not what i want yet in my life but im comfortable and taking things slow.

• United States
24 Jan 13
I agree with you. Life truly is beautiful. Especially when we work at enjoying it. Often times we get caught up in thinking about the future too much. That can cause us a lot of heartache and pain at the moment. I'm doing my best to try and enjoy my life. We all have problems and issues to deal with. But I'm trying to handle them in the right way. I hope that your life is going well.