Hummingbirds...what do you know about them?

United States
January 31, 2013 9:50pm CST
Don't know where else to ask this and since flowers are involved, I thought someone here might know. Hummingbirds. Those cute little guys! I put out a feeder of water/sugar and have it at my kitchen window so I can see them and I have 4 different hummers that come regularly. They are so cute and pretty. My 12 yo grand daughter loves them and has named each of them! She is making a little bird house/nest thing for them to hang beside the feeder, hopefully they will like it and maybe nest in there, but at least take a rest while feeding! She'd be thrilled if that happened. Anyway, we found out they dont' eat food...just drink the sugar water. Okay fine, but what else? Is there anything else I can put out for them to attract them or attract more of them? I plan on putting another feeder out and I am in the desert of california so heat is an issue during the summer months. I only have a few bushes on the outer side of my patio where the feeder is hanging...and with the heat/sun...I can't even have flowers as the heat/sun literally fades them and then no matter the care I give them, the sun/heat literally just fries them and kills them so no flowers can I plant, but I intend to get artificial ones to have around...I can replace those when the sun literally fades the colors into white...but I have a dollar store near by for replacement! But anyone have any suggestions of anything other than the sugar mixture for the little guys? ANd is red the only color they are attracted to? I like to hear from those that have "been there, done that" instead of just what an article says. Actual experience is so much better than just what words say!
3 responses

• United States
9 Mar 13
We built an above ground pond and they enjoy hovering over the pond now. Yes, it has a net, so the birds and the Koi are safe, but they do scare each other I have noticed when there is a bit of splashing. The other day Prince Charming the male Koi decided the birds were way to close and I had to go out and referee the situation. I think the trouble started when the red flowers started blooming in my back yard. I ended up digging up the flower near the pond and placing it on the other side of the yard and hoping now there is harmony. I do live in Southern California where there is a lack of rain and lots of sun. Maybe the birds would like a bird bath, as I'm planning to put one in the yard near the red flowers.

• United States
10 Mar 13
I am in the high desert of southern california. It is hot here in the summer cold in the winter. I had the feeder on my patio so I couldsee it out hte kitchen window and my GD and I monitored them and we had 7 different hummingbirds coming around three times a day! I was fun. Then a friend that knows alot about birds, said that the red food coloring in the sugar water was bad for them, dont' put it in there. So I made just plain sugar water, but since I have no vegetation to speak of here, I glued bright colored flowers onto the feeder....the H-birds stopped coming around! So I went to put the color back in, it was only one drop in 2 cups of water, and then set it down on the wall to go get the bird feeder in the bush, and since we get strongs winds all the time here...the wind blew it off and it broke. I bought a new one..different one and it didn't work, kept dripping so I returned it, but haven't been able to find the one like I had! So the babies I guess think I have left them! But I have the feeder for seed out in a bush and those birds just love it! That is pretty cute story about the fish and the birds frolicking! I wish I could do something ike that, but the heat in the summer is just to bad for that. I do intend to get a bird bath soon as I can find a good one. Problem here is that the sun literally bleaches the color out, dries up places, warps wood..that sun is extremely hard and damaging so I have to find one that will stand up to the sun!


• United States
4 Feb 13
Maybe I'll figure how to give that one a try! I want to attract MANY of them but no ants! Wonder how purple colored sugar water would do....

• United States
2 Feb 13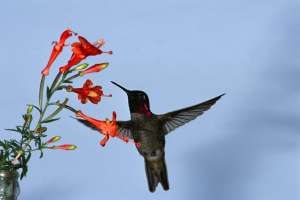 There aren't any hummingbirds here in MA...that I know about. When I lived in California there were loads of them and I put a feeder outside on my porch. All they eat is sugar water and I used to use different colors but if I remember right they only like the color red. They are an amazing bird and I would watch them feed and be mezerized. Those little wings fluttering so fast was amazing to me. I had never seen one until I moved to CA.