The Secret Ingredient That Our Parents Have Kept Secret

United States
February 10, 2013 1:04am CST
So the women (generation before mine) in our family are what you might call gourmet cooks. They have handed down most of the family recipes but they like to always keep one ingredient out. What is up with that. They tell us that we have to either find it or get creative to make the recipe our own. Blah! Most of the time we get to play Nancy Drew and usually one of us will find the secret missing ingredient. Are there recipes your mom (or dad) have passed on to you? And do they ever taste the same?

5 responses

• Boise, Idaho
10 Feb 13
My grandmother used to always make a cake for anyone in the family who had a birthday. I have made cakes from scratch but they never taste like my grandmothers. When I was a young girl I used to set and watch my grandmother make the cake and so I know what she puts into it. Mine just never tastes quite the same. Its a mystery.

• United States
12 Feb 13
Yeah, I know all about that mystery. By the way, did you ever get to lick the bowl. I still love to do that. And it's something I've passed down to my kids ... quite succesfully I might add.


• Boise, Idaho
14 Feb 13
Yes, I always got to lick the bowl. I know that flavor to this day!

• United States
10 Feb 13
Actually, as my mom has gotten older, there are certain dishes that she used to make, that she no longer makes. It's been years since she has made her lasagna or her stew chicken. I ask her if she still knows how to make them. Tell me, if you never find the secret ingredient, do the elders just die with it?

• United States
12 Feb 13
I know, that's so sad isn't it. So far we've been lucky to stumble upon missing ingredients. But sometimes we have thrown in our own ingredients and made a tasty dish. But I think I will hand down my recipes with all ingredients ... no leaving out stuff for me. Ah, but that's just me.


• India
10 Feb 13
i feel that we all have those recipes that our mom and grand mother used to prepare for us. Those dishes tastes so good. But when we try to do the same, we fail to get that taste. I guess it has nothing to do with the secret ingredient and them hiding it. I guess it is all about the interest and the love that they had invested on the dish is what make it so different from what we make. We see it as a dish , but for them, it is a way of showing their love. The taste of love can never be matched friend.

• United States
12 Feb 13
That's so very, very true. I've heard my mom say that once or twice.


• Leon, Mexico
15 Feb 13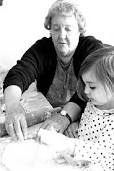 Hello

Gtargirl, I hope that you are fine. You make me recall some good times. Not my mommmy but my
grandaunty
tought me a lot of cooking recipes. I used to be with her many time on vacation. So we made cookies, bread, desserts, cakes, fish, beans. She was my grandmother sister. I never met my grandmother, but I knew by my aunty that my grandmother loved to
make big wedding cakes
. She loved to decorate them most.

Thanks you for posting.
Blessings

Gtargirl... dainy

• United States
15 Feb 13
Your welcome. It's funny how some things, especially like food, can bring back some wonderful memories. Sometimes I can smell those memories, if you know what I mean.


• Leon, Mexico
16 Feb 13
Oh yes dear friend Gtargirl, I know what you mean




• Philippines
11 Feb 13
Fortunately, my Mom did not keep any secret to me when it comes to cooking. I am inherently interested with cooking. As a young girl, I was not much interested with dolls but with kitchen utensils and would cook all the leaves I could ever gather from Mom's garden to the delight of all my playmates. As I grew older, I would watch my Mom and my elder sister and help them out as they prepared our meals. My Mom noticed my interest and she and my elder sister started teaching me just about every thing I need to know. From there, I learned all the secrets of their good cooking and so now I cook just as perfect as they do. My mother is now gone but her good cooking is one of the legacies she left with me. I really am thankful to her for that.




• United States
12 Feb 13
That is so awesome. It's a wonderful thing to take the time and teach you.