Whaaaaat.. Gggg GLASS FROGS?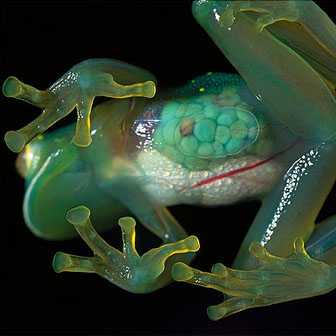 Thailand
February 13, 2013 3:54am CST
Interesting to know that there are really unique creatures of God that Science cannot explain how it existed. One of which is the GLASS FROG. Yes you heard it right! The glass frogs can be found in the mountains of South America, Mexico, and Panama. These unique frogs belong to endangered list because of the slow progress of their population. Trees are cut down and forest becoming.. well whatever we can think of now. Their world is being destroyed in other words. They are just more of ordinary frogs and lays eggs in near river or streams. Of course like any other toads, survival is a must. They can hardly be seen in the forest for they are very small and also with its green color, they sit quietly on the leaves and shrubs. Amazing isn't it? Read more: http://scienceray.com/biology/the-glass-frog/#ixzz2KlpI5emE
10 responses

• Perth, Australia
9 Oct
@Mavic123456
I have never seen or heard about this before. I'm sad that they are on the endangered list. I'm always sad to hear when something is dying out because of ....humans.


• Thailand
10 Oct
Oh yeah me too. Now that I have embraced the slowly dying world. I feel bad about these news.

• India
13 Feb 13
Cool! What are you into Mavic? Suddenly you started posting cool stuffs..its like I feel its not you at all..Lol. Just kidding. I have seen such frogs in my native place. But they just resemble in color and not being transparent though.

• Thailand
13 Feb 13
the lower part is the transparent portion of the frog... yes, I am cool. whooo hooot.. i have another one to post here... so many to discuss.. I am excited. Happy Valentine's day

• India
14 Feb 13
Yes you are. Glad to know that you have thoughts for your coming posts. Good. Happy V day.

• Thailand
14 Feb 13
hahaha.. thank you (vow).... Do you have a date today?


• Leon, Mexico
2 Mar 13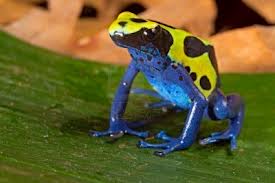 Wow

, thanks you for the info, they are so lovely.
I live in Mexico
and I didn´t know about them before. In a
specialized zoo
I´ve seen many lovely
colorful frogs
, plain of bright colors, as the color are lovely the poisson they have is bigger. I would not like to find a colorful nice frog jumping near me.

Thanks you for posting!
Blessings

Mavic... Dainy

• Thailand
2 Mar 13
frogs are still frogs... but yes they are beautiful Dainy... do they have hair? I mean he could be my prince charming when I kiss him.

• Leon, Mexico
2 Mar 13
You make me laugh


, maybe a very handsome guy maybe as colorful as those poissonous ones. I´ll prefer the glass ones, with
transparent
feelings.
Take care! Blessings

Mavic... dainy

• Thailand
2 Mar 13
LOL....i changed my mind regarding the colorful frog... I thought since it is too colorful... the prince might be a you know a gayish no way. LOL Transparent? that's a very sensitive one.. and if you drop it, it might break

• Romania
14 Feb 13
That is truly amazing, it's not poisonous? But I think even if it's not poisonous, i will still ran away if you throw it on me

. The world is getting smaller and living creatures have to fight to survive, this is how it works now. It's sad but what can do against greed who will destroy life just to have more money?


• Thailand
14 Feb 13
yes, and i hope they will find ways to keep them in their own sanctuary.. I remembered poison Ivy in Batman and Robin.

• Thailand
17 Feb 13
I don't it is poisonous... it was not mentioned there so maybe not.

• Delhi, India
19 Feb 13
I have not heard about glass frogs. It is news to me. Thanks for sharing.

• Thailand
19 Feb 13
thanks for reading and interest with it.. Yes cool stuff isn't it?

• Philippines
16 Feb 13
is it poisonous? I dont have any idea how to know if a frog is poisonous... there's a lot of frogs here in the Philippines even in the drainage, but usually the frogs lives in the province.. keep sharing mavic for more knowledge for us thanks..

• Thailand
17 Feb 13
I don't think it is poisonous, because it was never mentioned there. Yes, here too there are lots of frogs... and they make funny noises at night... LOL I hope you read more of the other discussions you find interesting.

• India
14 Feb 13
Hi I have watched a program related to this glass frogs in discovery. And yes due to cutting down trees these frogs are about to extinct as they are found only in the specific area you mentioned. Really we are destroying everything. Poor creatures are suffering along with us.

• Thailand
15 Feb 13
yES, Just hope that they will be placed in their own sanctuary.

• Quezon City, Philippines
14 Feb 13
Pretty interesting kind of frog specie this is. Too bad that it is not able to cope with the fast pace human intrusion in their natural environment. It is hard for species that is not able to easily cope with the changing world we have right now. I hope we can somehow do something to preserve them so that we can sustain our natural ecosystem.

• Thailand
14 Feb 13
yes, I was so surprised knowing this too. I just hope that they will be preserved I mean taken care off by not hostile world, for our children and children's children.


• Thailand
13 Feb 13
hahaha no.. it is just like a transparent frog.. so cute

• Philippines
3 Mar 13
i till never heard that glass frog and even to see the real looks of glass frog,actually i only heard that here and comes from you,there are many animals who almost gone and endanger because of the greediness of people and they will need to destroy forest for their own.,