His very first DonwHIll Longboard competition!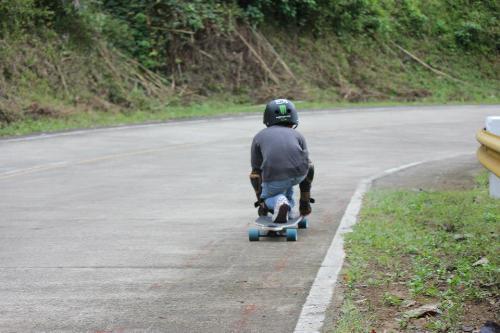 Philippines
February 19, 2013 11:16pm CST
I am a proud mom! Who wouldn't be? I got a very handsome, smart, and talented boy! I feel bad that I wasn't there during his very first longboard competition. If i were i would have joined too. He joined in both down hill ride and the push race. He didn't have much practice because of the surgery he had last year, but he went on and joined the race anyway. He got the second place in both downhill and push race and got himself two quicksilver shirts, longobard stickers and other stuff. He was a bit disappointed but I"m still proud of him. At 8, he was the youngest to join the 12 below category. I only saw pictures and videos and i felt so bad i wasn't there to cheer him on and join the fun! It made me miss my own board too.

10 responses


• Philippines
3 Aug 16
He's 12 now and acting like a real teenager. He doesn't like to be kissed and hugged anymore.

• United States
5 Aug 16
@toniganzon
My son is 8 and he hasn't let me kiss him for years :( I was the same way when I was young. As soon as I went to school at 5 I wouldn't say mommy or hug my mother or anything anymore.

• Philippines
5 Aug 16
@shaggin
my son slept next to me till he was 10. Back then he'd cry if I forced him to sleep in his room.


• Philippines
20 Feb 13
Congratulations to your son, Toni. He has the making of a future sports superstar. Don't fee bad that you weren't there when that happened. Anyway, you are there abroad for his future. What is important, is he can go on with his dreams even if you weren't there to watch him. It's good that there are pictures and videos of him doing that.


• Philippines
20 Feb 13
Hope there will be another competition this summer because I'm going home for vacation this March! Hopefully, I could go back to riding my board and swimming too. Can't wait for that to happen soon. Thanks D! If you checked the pic, that's him riding his board.

• Philippines
20 Feb 13
Yeah, i saw the picture. Ako pa.

I even commented on it. I can see that he really has the eagerness for the sport.

• Philippines
20 Feb 13
Thanks D! His father was a bit scared of letting him join the downhill because it was very steep. I was the one encouraging him to do it. He did anyway, and i'm such a proud mom.


• India
28 Feb 13
I,m happy for you to have raised such a brilliant boy .Even though you missed being with him on his D-day for some reason ,your being sorry shows you really care .There will always be a next time .

• Philippines
10 Mar 13
Thank you. I'm proud to have raised a smart boy. He has always been like that since he was very young. I hope he won't change.

• Lima, Peru
25 Feb 13
Congrats for your son. A second place in the race is a great achievement. For sure you'll be at his side in the next competitions.


• Philippines
10 Mar 13
I hope so. Competition is only every January. Don't think i'll be home by then. I only go home every summer and that's from March until May.

• Canada
22 Feb 13
Sad that you couldn't be there to cheer him on. I'm sure he knows you're proud of him though. Second place is a good showing. He should be proud of himself even if he believes he should be able to do better.

• Philippines
23 Feb 13
Yeah did tell him to be proud. He's an achiever and always feels bad when he couldn't be on top. He's just 8 and he has a lot to learn about winning and losing. He's smart though and could understand easily.

• Dhaka, Bangladesh
21 Feb 13
I am happy to know that you have been blessed with one wonderful and talented son. I hope your son will do brilliant result and would be a high government official. I have also two wonderful sons. They are doing fine. Have a very nice day.

• Philippines
23 Feb 13
That's something that i don't wish my son to become! A government official. My dad was and that killed him and my mom.

• Italy
20 Feb 13
Well, on the one hand the great satisfaction of having a child talent in downhill. This, in fact, as you yourself have said, it makes you a proud mother! The only downsides that you are not been able to be present to see your son skiing and as a result, to root for him! If at this age he is already a talent, you can imagine what he could become in his growth! My compliments!

• Philippines
21 Feb 13
Right! I want him to be the best that he can be. I want him to be ambitious but humble at the same time. What he will become in the future is a reflection of how good we are as parents to him.

•
20 Feb 13
You have such a beautiful little boy too Toni! He will break hearts when he is older :) He knows you love him :)

• Philippines
21 Feb 13
Thank you so much! Yeah he knows that very well. I hope he won't break hearts though. lol

• Indonesia
20 Feb 13
I can feel how happy and proud you are of your smart son. Next time he will join a downhill off road bike competition.

• Philippines
21 Feb 13
I'm pretty sure he will. I was once into that when I was in my 20s. I rode with my brother and my husband then. I was the only female in our town doing that.

• Legaspi, Philippines
20 Feb 13
Wow! You should really be proud of your son, toni. Our children will always be something to be proud of. I can feel your happiness. Hope you can already come home so that you can be with your family. Have a nice day!

• Philippines
20 Feb 13
Will be coming home in March and i'm pretty sure i'm going to ride with him. Can't wait.