mylot digest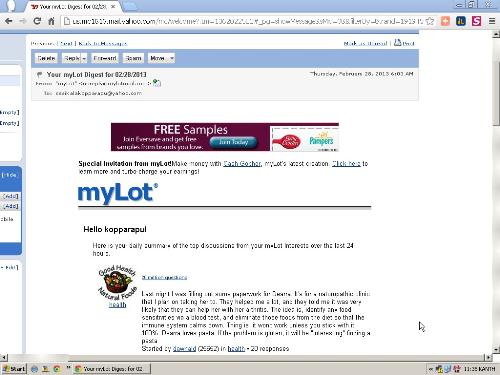 Anantapur, India
February 28, 2013 12:12am CST
Hi mylot friends, I am hapy, When I first seen my discussion published in mylot digest. But now that enthusiasm and happy is not there in me when I see my discussion in mylot digest. I do not know why my interest is decreasing in posting discussions in mylot. Some times I am not getting responses properly so that is the cause to decrease interest on mylot postings. I have not received any response for my discussions stating [b]1.What is the use of Shop builder in Facebook (0) 2.Making Gift Portal site (0)[/b] in above discussions, the second one is important discussion to me,but it is pity that till now I have received Zero responses.
7 responses

• Denmark
28 Feb 13
I have also made some discussions that didn't get any responses, but I don't lose the interest in making discussions when that happens. Sometimes few people know something about the topic that we write about. That happened to me in the past when I started discussions about very specific topics that few people were able to relate to. Maybe that was also the case in your situation. Maybe the members who read your discussions didn't respond because they have no experience with Shop Builder or Gift Portal sites and wouldn't know what to write about those topics. Don't get discouraged because of the lack of responses, and don't let it stop you from making new discussions

Sometimes we don't get responses, but I still think that it a worth a try to post the discussions...

• Anantapur, India
28 Feb 13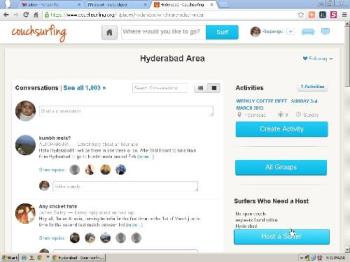 Hi Friend, Thanks for the response, after long time I am seeing you in my discussion. You have not replied me about Coach surfing site, have you joined in it or not? Several of my discussions are zero response discussion,I am not worrying about that. We cannot estimate the mentalities of the people in social network site, I will continue to post discussions now and then when ever I need some clarification,have a nice day.

• Denmark
28 Feb 13
I haven't been able to spend much time on the internet in February. Now I am trying to catch up and read some of my friends' discussions that I missed while I was away. I don't know if you saw the discussion that I made a while ago, but I spent some time at a psychiatric hospital in February because of my depression. Now I feeling much better and I am able to be active again. I have visited the Couch surfing site. I didn't join it yet, I just looked at the site. When my husband and visit Switzerland we would like to find a Couch surfing host, because accomodation is very expensive in Switzerland.

• Anantapur, India
28 Feb 13
HI Friend, Thanks for the response, why ladies only fall in depression? My wife also feeling tension daily and taking tablets, she is more sensitive so her tension will grow. But I never care for any thing. Now and then I am posting something in mylot, I am having all my old friends in mylot site only,so I am active in mylot have a nice day.


• Mexico
1 Mar 13
Sorry, I didnt respond to those as I truly dont know what fb and the other discussions are really about. Maybe others have the same troubles.

• Anantapur, India
1 Mar 13
Hi Tootsie, Thanks for the response, first you see the both sites and try is there any chance to earn money from them. Some body is making money in both of those sites, first go to the sites and know the details of the site. Take your own time, no hurry. I think you are busy with your job so I think you does not have much time, have a nice day.

• Mexico
1 Mar 13
The problem is I do not use facebook at all. I assume you must have a fb acct. to see them.. right?

• India
28 Feb 13
My dear Shridhar I reply to those discussions about which i have some knowledge, if i don't know, what is;'Shop builder in FB' or 'making Gift portal site' ; there is no use it telling in the response; sorry i don't know' There are many learned persons here who will respond, yo have to wait.

• Anantapur, India
28 Feb 13
Hi Professorji, Thanks for the response, I too know that lot of persons know about Facebook so they might know about shop builder and about gift portal also. As said by you I will wait some more days to get reply for my discussions, what can we do nothing, but waiting is our duty to get some information from mylot friends, have a nice day.

• Garden Grove, California
1 Mar 13
why not make some discussions that a ppeal to jusw who you think are not inteligent but you w uld be surprised as I myself have an IQ of 140 which is considered intelligent for sure. Being So if you y really want sonme responses dol not bglittle our minds here.



• India
28 Feb 13
hey friend same thingsh appen to me too. there are a few of my discussions too which are left untouched by MyLottians but dont worry. you will ge tthe answer sooner or later. dont lose your hope u will get it some how! :)

• Anantapur, India
28 Feb 13
HI Technojakeb, Thanks for the response, not only these two discussions were in Zero response stage. There are lot of discussions are in zero response stage, this is common to me in this site. I do not know for which discussion people will respond or not. This is a million dollar question to me, so I am loosing interest in posting discussions. Have a nice day.

• Garden Grove, California
1 Mar 13
on the other hand why not make discussions on things we all have a little knowledge about as a lot of us do noti know about gift portal sites. what it is and we do know about more ordinary things like family and children problems related issues and like and dislikes . Study the discussions thaet get a lot of responses

and learn from them too.



• India
28 Feb 13
Yes you can feel proud that your one discussion published in mylot digesst. Now many get interest in facebook. More and more facebook getting popularity. Because we can make friendship in person in facebook. But friends of mylot are invisible. It may be one of the causes of your loosing interest in mylot. But I love mylot.

• Anantapur, India
1 Mar 13
Hi Bhanusb, Thanks for the response,I have joined in Face two years back. But since then I am not active in face, still I do not know how to participate in facebook. At present I know commenting and uploading photos in facebook. But there is no revenue in Facebook and there is revenue in mylot and mylot is my gateway for dollar income, have a nice day.

• Garden Grove, California
1 Mar 13
hi yugasini you have made your discussions too narrow just for whoever knows about what you discussed. Neither of those topics are something I know anything about. the stuff you wrote about is fine for whoever knows about making gift portal sites. Write about something most of us know anything about then you will get a lot of responses. Nobody wants to respond to something they do not even understand. It makes them feel d

umb.



• Anantapur, India
1 Mar 13
Hi Hately, Thanks for the response, I know that there are lot of experts in mylot execept some people like are innocents. Now a day people are making site and blogs, it is easy to create sites and blogs. Everybody's desire is earning money, so my desire also making money. I have uploaded a picture of sample gift portal, when you see it you can understand what is it. still you does not know about it contact me, I will tell you,have a nice day.

• United States
28 Feb 13
don't be discouraged your just not getting the people that you need to respond to that. ask something else nd they might come along to help you. I have a few things I could not get help with as well. I just let it go and moved on.

• Anantapur, India
28 Feb 13
Hi Giftsbagscom, Thanks for the response, and congratulations that you have crossed 36 thousand postings in mylot.You are the person reached this figure with in short time I think, am I correct. Thanks for the support, not only these two discussions were zero response, there are lot of my discussions are with zero response, what about you?