Matching pillow case for the quilts.....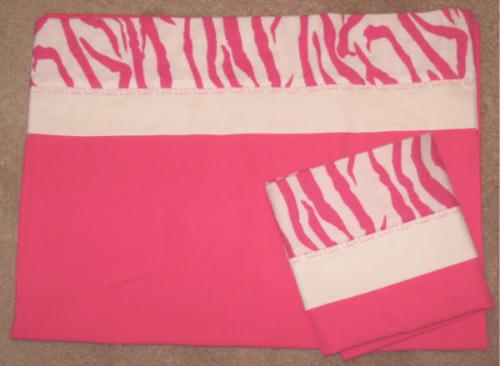 United States
March 7, 2013 10:09pm CST
So in my quilting endeavors.. I opened an Etsy Shop trying to sell them. You can see the link in my profile. But...I was thinking, once you buy a quilt..you usually don't go buy another one...so I am limited on my (hopeful) earnings from selling. So I was thinking of other things to make and sell that go with quilts (gotta have that SEO thing going to be found in the searches!) "quilts" was just not enough, and I suddenly remembered... I make pillow cases too! I made wonderful ones for my grand kids last V-day...speciality fabrics of their favorite "thing". So I had just made a quilt with black zebra print, and had some pink zebra print left over from something else, so I made some pink pillowcases with the pink zebra print as the cuff! Here's a picture. I am really excited to make more, I got the pattern and all down to a science now...and will use the "extra" fabric from the quilt to make a matching pillow case....so I hope that if someone does buy a quilt, they will also want to buy the pillow case to go with it! What do you think? Would you buy the pillow case too?
4 responses

• United States
8 Mar 13
I love, love, love the idea of adding pillow cases to your Etsy store! I have a friend who makes colorful pillow cases for friends and they're awesome! Even if you make pillow cases that don't go with any quilts I think they'll sell if they're priced right. And of course it's a great way to use larger fabric scraps. Plus, if people can't afford a quilt but like your work, they'll have an alternative. I say go for it!

• United States
8 Mar 13
P.S. Bright pillow cases are fabulous gifts for cancer patients. Consider making travel size pillowcases, too. I'm going to be watching your store!

• United States
8 Mar 13
Hey my52cents.. nice to hear from you again. We need to get back to corresponding more like we used to! Thanks for the compliment! I have been making pillow cases for my home for years..buy a twin size flat sheet and I can get 4 pillow cases from one sheet! I hate paying $9 for 2 which is what they are in the stores. I pick a matching color or print to the sheets I have...since the sheets seem to last longer than the pillowcases! And last year I made my grand kids each one for Valentines day and used their "favorite' thing..horses, eagle, mickey mouse etc. So that is where I got the idea. The ones there.. the pink zebra...I thought to match the pink zebra quilt I have but didn't catch the zebra in the quilt is black and white while the pillow case is pink and white. Matches but depends on if they like more pink than black! So many possibilities! What are "travel size pillowcases"? Could be a niche! And I will pull my bright colors..that is a good thought..have a reason for the pillowcase. Thanks for the insight! I do think I will expand on the pillowcases to anything, not just matching the quilts, especially for kids and the cartoon/disney etc characters. I saw in the store they have Star Trek fabrci..from the ORIGINAL series...wonder how many kids these days would even know that, but there it was with the original cast on it! I don't have my kids around much anymore so I am not up on all that stuff, but my grand daughter did just tell me ....moustaches's are "IN". I asked if she was kidding me and she said "No, I quarentee a moustache quilt will sell!" I'm thinking... girls like moustache's? Seriously? but apparently so!

• United States
8 Mar 13
PS - blogger has changed alot and added alot of new stuff that I don't understand, but I did put the "follow" gadget on there last night and the RSS feed (whatever that is!) if you want to follow me. I'll follow back if you have a blog. I have to go back to Squidoo too! Have let that slide with my cupcake lense which was a pretty good money earner! Hey... a cupcake quilt...covers both... I am SOOOOOOO doing that!


• Philippines
8 Mar 13
that is nice that you have your online business. indeed it is very important to have other sources of income than just to stick with one only. i also to have my online business. but not i want something that is very useful

• United States
8 Mar 13
Well, I sure hope it does result in some income...I just spent $140 dollars on fabric 2 days ago, and literally, can't buy another thing until something sells! Okay,I admit, I had 50% off coupons on everything I bought or it was on sale 50% off so I only had to pay $70 for it, but still...got plenty of fabric and no more money so either way...can't buy anymore! Hopefully between the blog and and consignment shop I can have even a little success!

• Philippines
8 Mar 13
Quilts aren't used much here in the Philippines since we're in a tropical climate. Anyway, when my mum buys beddings, it's usually in sets. So the bed sheet matches the blanket and the pillow cases. So I think it's a great idea to include pillow cases. You might want to learn how to sew bedsheets as well, so it's a complete set! We usually change our sheets monthly, so we have 3 sets beddings, which we we use until they break. Could take years on good quality fabrics. I think the way to go with your business is to open to a larger clientele. Try going multi-national, and then international! I do hope your business does well!

• United States
8 Mar 13
Yeah, I have to have what people want! ANd hey..a quilt in the Philippines...how about a beach blanket? The quilts can be made with a thin batting so they are still soft to sit on and keeps the sand away! OR for a picnic blanket to sit on....quilts are NOT just for beds!!!!LOL!!! Hey, that can be my new clientele base buzz phrase....quilts are not just for the bed!!! Think I'll make one with a sea theme! Thanks for giving me the thought!

• United States
8 Mar 13
I think that is a great idea for your store. I would like matching pillow cases if it were cheaper than buying in the store.

• United States
8 Mar 13
Well, the whole point is "matching". You can get regular cases at the store for 2/$8-$9 to match your sheets and some prints, but these particularly will match the quilt and I am only pricing them at $5 so I hope it works!