No one understands comfort like a cat.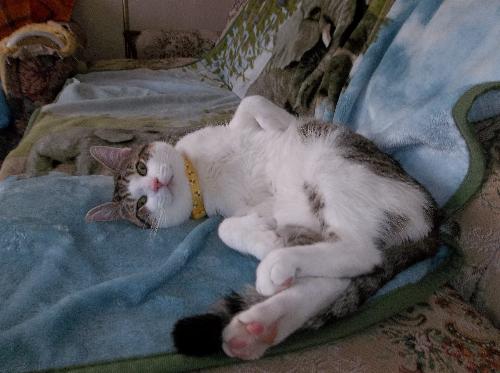 Canada
9 responses

• Philippines
24 Mar 13
i think he's really loving his new home and family and that that's his nature as well. and i agree with carmela when it comes to pets. even when they get older, they still have their cute moments, even when they get into their little accidents!

• Canada
24 Mar 13
Animals can sense when they are liked. Mister's personality is just awesome. He just fits in so well around here.

• Philippines
26 Mar 13
i saw your comment about the scratching post. maybe if you smeared it with something he really likes, he'd always head for it. he seems to be someone's family cat previously if he likes sleeping with the kids. i'm looking forward to more posts about mister. with pictures of course!


• Canada
27 Mar 13
I think more pictures and discussions are only a matter of time. There are somethings we humans can't seem to resist.

• Canada
24 Mar 13
Ah he's so cute. Of course he is not scratching the furniture and trying to open the front door or the fridge or pantry to get into the food.

• Canada
25 Mar 13
Scratching the furniture is probably our biggest concern. Those fourteen front claws could do a lot of damage in a hurry. We brought up an old piece of plywood and he tends to prefer to scratch on that for the time being. Granted we had to put away some rubber child play mats. He would have destroyed those in a couple days.

• United States
23 Mar 13
Aww, he is adorable and as for taking his cuteness for granted, it may slow down, but there will always be a "aww" moment, even when you had him for years. I got Penny and Ciara over 3 years ago and I still see a "aww" moment with them both..:)

• Canada
23 Mar 13
I'm not going to argue with that. We're all suckers for him right now. This morning he just had to get up close and personal while I was fumbling out a tune on my harmonica. Seemed to enjoy a little blues. Can a cat be more cool than that?em]lol[/em] I just can't get over those seven-toed front feet though.

• United States
24 Mar 13
I didn't notice he had seven toes on one of his feet,that is cool. The neighbor's cat I watch when they are out of town has a kink in his tail, so his name is of course, "Kinks" He is the one who likes to make me take a break when I am trying to study by laying on my book..lol

• Philippines
24 Mar 13
carmela, you can read mister's "introductory" post here. http://www.mylot.com/w/discussions/2757421.aspx


• United States
25 Mar 13
oh my gosh, you have that right. I don't know how they can turn themselves into such pretzels all the time, but they do. I have a cat on my lap right now, in fact. She just likes to rest her head on my hands while I type, sleeping. Very sweet.

• Canada
25 Mar 13
Kicking back with a cat on my lap is so relaxing for me. I hate having to move them off when I have to go do something else.


• Canada
25 Mar 13
I'm definitely a cat person. I grew up with cats and generally speaking they like me. It did require finding a very special family cat for us. Mister is such a good choice.

•
24 Mar 13
Your right,cats are expert finding the most comfortable place possible to sleep, and when they are asleep they look like the most comfortable thing in the world. We had a cat for a long time and I never took it for granted how cute she was, and she was definitely photogenic I have got lots of photos of her. What our cat used to was climb up on the work top and scratch up the kitchen towel up to make herself a little bed.

• Canada
25 Mar 13
This cat is surprisingly well behaved when it comes to climbing up on top of things. We haven't had to say any harsh words to stop him from climbing on the table and counters. He likes to curl up on the foot of the kids beds especially my daughter's.

• Singapore
24 Mar 13
That's true. Cats really have the talent to find the most comfortable place to sleep everywhere they go. They really can sleep so much and sleep so well. I just hope that we can fall asleep as easily as a cat. Perhaps scientists can study about the sleep pattern of a cat, and find a cure for insomnia.


• Canada
25 Mar 13
Likely going to fill quite an album with Mister's pictures. There have just been so many "someone grab the camera quick" moments.

• United States
24 Mar 13
I like your turn of phrase in your title. It really says it all about our feline friends. I hope you have many years of getting along and being comfortable.

• Canada
25 Mar 13
That phrase came to mind after a couple of days of seeing him drape himself all over the place. No stress in this cat.