Shopping for holi

India
March 24, 2013 5:43am CST
The 'holi-festival' of colors is on 27th March; yesterday I went to buy 'gulal' (colored powders; that we apply on chhek and fore head of others), colors, caps and 'pitchkari'(pump like thing) to throw colored water at others. I was surprised to see that the market is full of chemical dyes which are harmful to the skin. These colors can not only damage the skin, but also if it enters your stomach can lead to nausea and may cause cancer. The sale of chemical dyes are sold openly in the market is quite alarming. I bought the herbal colored powders made from 'arrowroot' powder colored with turmeric and dyes from leaves; the colors I bought are also herbal.
On this festival one can see many persons drunk, they try to put colors on women on the streets; some are bitten for this.
[i]Some can apply on your face or body, these poisonous colors and even paints that have aluminum powder and brass powder to make them look like gold or silver. [/i]
Last year one applied human excretion on some, too bad.
[b]Well I or any member of my family won't go out.

Members from my mother in laws family will come to play holi with us. They will apply this powder on my forehead and seek blessings.[/b]

[b]So do you have any festival like this? Please respond, and comment. [/b] Thanks in advance. Professor Dr. B.Saraf. PhD. Cheers have a lucky day ahead. March 23rd 2013. [b]Wishing you a nice SUNDAY. HAPPY HOLI TO ALL IN ADVANCE. [/b]
[/i][i]
[b][/b]
9 responses

• Philippines
25 Mar 13
hi professor, jose and i went shopping for colors yesterday and i had some greens and reds and yellow. lachmi has offered something like a lipstick kind too. but it was a little expensive so we opted to buy the powder. i said that as long as these colors will go off as soon as i hit the water during bath, i would willingly enjoy it. it is exciting and i like to experience how it is like. i am sad that some people in your place, just for the sake of fun, would try to put nasty things on another person. like i said, they are there to enjoy the moment, so it must be clean fun. will keep you updated on what comes next. my best regards, ann


• India
25 Mar 13
Honey

So you are ready, my advise wear a plastic cap to protect your hairs and tell your friends not to spray colors at your eyes, some might cause irritation.


• India
26 Mar 13
Yes, being careful is very much advised, especially for eyes.

• Philippines
25 Mar 13
There is one festival that STO. Nino (child Jesus) devotees celebrate. It is celebrated every January. People in Aklan (Province from the Western Visayas Region) would cover themselves with something black. They have a procession and then a parade. People dance in the streets.

• India
25 Mar 13
Thanks for the detailed response, here we can learn things from each other.

• Philippines
25 Mar 13
Indeed, we can. That's what make this site a good place to hang out.


• Hungary
24 Mar 13
I haven't heard about Holi Festival before, but I'm going to look into it, as it seems really interesting. I do agree with you that it's bad if most of the stuff on the market contain bad stuff like chemicals which cause harm to the skin. I'm glad you could find herbal coloring powders at least.

• India
25 Mar 13
Thanks for response. You can find much information in Wikipedia

• Thailand
24 Mar 13
ahhh so it's called holi festival. hmmmm... I have seen this in one of Indian films.. it's indeed fascinating. the colors are great and the really happy. Now I know what it is thanks prof.

• India
25 Mar 13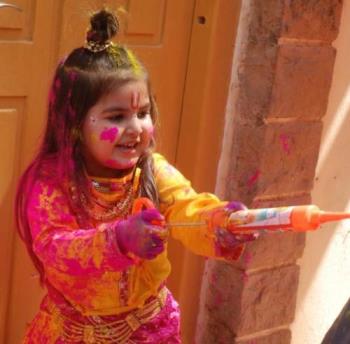 I saw in a discussion tigeraunt (Ann) is going to observe this in Davao, see a baby girl throwing color with 'pithkari'

.

• India
2 Apr 13
There was a time Holli was played with natural colors now the colors have become poisonous and dangerous.We should be careful when we play with colors,they should be safe as well natural ones.Let us take initiative to play safe Holli.

• India
2 Apr 13
I remember many prepared color in home from leaves, flowers etc.

• United States
26 Mar 13
We don't have any kind of such festival here and I have to say that is something that really is a shame because it really does sound like something that would be a lot of fun. I mean it is terrible that there are people that want to apply excrement to other people, but the paints and such really do sound like something that would be a lot of fun. I hope that you and your family enjoy celebrating this festival together.

• India
27 Mar 13
Actually we observe Holi 2 days, to was 'Holika-Dahan' we burnt wood in a ground like a bonfire, it has long mythological story linked, tomorrow we play colors as i said HAAPY HOLI TO YOU AND FAMILY

• United States
26 Mar 13
This was very interesting and I hope to learn alot about others cultures from being on my lots. Thanks for sharing this information with us.

• United States
26 Mar 13
I am excited to celebrate Holi for the very first time this year. My boyfriend and some friends are planning an event through the Indian Student Association at their university. Until now, I have only seen this festival in movies and it looks like so much fun! I don't think anyone will try any of the crazy stunts you mentioned, but I will check into which kind of powders they are using. Happy Holi!

• India
27 Mar 13
Happy Holi to you dear, tell me later how you enjoyed it.

• India
25 Mar 13
Holi is a colorful festival about which it is said that (quoting from a song of Sholay) : "Dushman bhi gale lag jaate hain." (Even enemies get friendly and embrace you). Unfortunately, people who drink and play Holi like rowdies do not understand the true spirit of this festival and make it an unpleasant experience. Holi should be played with natural colors, and if manufacturers of colors are found using poisonous and banned stuff they should also be prosecuted. "Happy Holi" in advance.

• India
25 Mar 13
Thanks for the wishes and the nice response, yes on holi enemy become friends