Sodahead do you know about this site?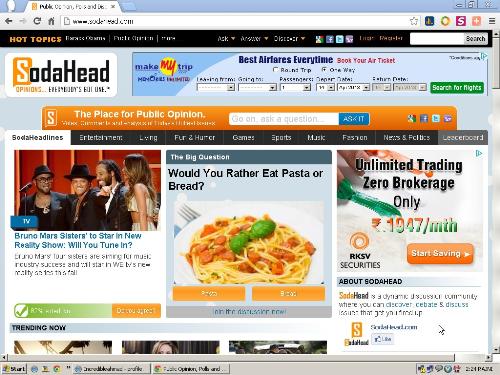 Anantapur, India
April 14, 2013 4:13am CST
Hi Mylot friends, Today When I am working with other site, I have seen a word about this "sodahead" site, the matter is that " the image was courtesy by sodahead". First time I heard about this site,what for this site is working.Is this site is like Facebook/ twitter site, You know that I am still baby in the net and computer. There are lot of seniors and experienced people in mylot site may know about this site, please explain me about this site as discussion so that every member of mylot may enjoy about the news of this "Sodahead' site.
1 response

• Cambridge, England
14 Apr 13
Sodahead is a site where one can post questions, polls and so on and answer them. They can be shared on social media sites and therefore encourage other people to visit the site. Naturally, the purpose of this is to make a profit for the owners of Sodahead! Sodaheead DO NOT share these profits with their users. You can earn points and increase your rating and 'level', as described here: http://www.sodahead.com/about-us/faq/#SodaHead_Points but these points have no other value. In that sense, it is very much like Yahoo Answers.

• Anantapur, India
14 Apr 13
HI Owlwings, Thanks for immediate response, so you are familiar with this site also. Most of the persons are talented like you, except me, though I am since 7 years in this on line field. But my knowledge was not increased, it is increased to some extent only for posting, and sending mails. So any how I got the answer from you, have a nice day.