Iron Man Three

Philippines
April 24, 2013 7:12pm CST
My sweet, generous, and high end svelte cousin treated us to a grand opening day screening of Iron Man 3. So there we were, my daughters, my nieces, my cousin and I, with our cheesy pop corns, French Fries with dips, hotdogs and serenity teas, all eyes agape, lest we miss something in the transformation of Tony Starks from a self-indulgent genius/billionaire/playboy/philanthropist to an Iron Man with a real heart. The prototype Mack 42 was destroyed in the end, as Tony was left with no option but to ask Jarvis, his super duper computer, to detonate it, because his nemesis (can't quite remember the name, but it was the true Mandarin) took him, Tony, to the next high level action. That's all you gonna get from this spoiler. Go watch it first. Guaranteed ultimate entertainment. THANKS cuz, it was a great fun night! I loved sitting beside my little niece, she perceived the plot and varied characters quick and easy. Like I always say, when you want your children to learn many things, just take them to the movie theaters and give them some pop corn.



9 responses

• Philippines
25 Apr 13
Bad girl, very bad girl. Why don't people ask first before blurting out an spoiler? They should have shouted "SPOILER ALERT!SPOILER ALERT!" a few times before saying it. Now that I read your post, I know the ending of the story. Anyway, I will still watch it on May First.

• Philippines
26 Apr 13
SOOOH SOREEEE! I couldn't help it. But spoilers are fun teasers, and most often than not, the viewers, while watching the movie, go "Oh, I thought it was going to be like this... Oh, I see..." So, even if there was a bit of a spoiler there. there is more to Iron Man Three than any spoiler can make damage. Am watching again in a fortnight, minus the pop corn, and the kids, just Iron Man and me.



• Philippines
27 Apr 13
I just watched it in 3D and it is fun. Still contemplating if I'll watch it again.

• Omagh, Northern Ireland
28 Apr 13
Don't think the 3D added anything special to the Movie..


• United States
25 Apr 13
I have only seen the first Iron Man! I still want to watch that again then Iron Man II! Maybe even "The Avengers"! I want to see Iron Man 3 when it comes out on video! I love Robert Downey Jr and Marvel comic charecters! I have seen Iron Man in cartoon form but it is so much being live action!

• Philippines
26 Apr 13
You have to see these Marvel series in correct sequence, including Thor and Captain America and The Hulk. Please hurry, before all the next cramp in your list.

• Omagh, Northern Ireland
26 Apr 13
I got the Avengers DVD box set with the story so far once "Assemble" was out on Disc...It was available on Amazon UK before I went to the States for Thanksgiving,but I wanted to bring it home as a Souvenir-and Could I FIND it while I was there? the Best Buy staff were scratching their heads like they never heard of it.. I bought it off the shelf at my usual supermarket when I got back,not wanting to wait any longer for delivery time!

• India
30 Apr 13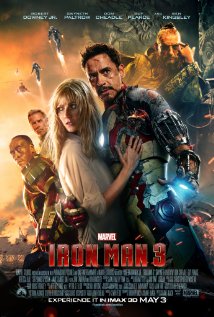 I haven't seen Iron Man 3 yet, but reviews are good about this movie. I think I will see the movie this weekend ......

• Philippines
30 Apr 13
How about today, it's a no work day, it's Labor Day! Watch Iron Man now, go now, get to the theater, bring poppy corns and have fun.


• Philippines
29 Apr 13
I am looking forward to watching this 3rd episode. Love the first two episodes. Each episode has their own particular highlights which makes each Iron Man sequel something to look forward to. Sorry you did not spoil the movie for me since I cannot visualize what you are referring to. Anyways.Thanks for validating that this movie is worth watching.

• Philippines
29 Apr 13

I love Iron Man! Would have related the story of the 3rd episode in its entirety but that would not be fun anymore for you guys. The destruction of the prototype was just a teaser, but to those know the making of Iron Man 3, that is already a spoiler.


• Philippines
28 Apr 13
You are so lucky you have a cousin to treat you and your entire family.

i cannot wait to watch this film too- it's just that i still have work and i also do not even want to spend on luxury.. I guess i will just have to wait for a good dvd..

• Philippines
29 Apr 13
Watching movies I like is my only luxury

since I was young. Guess I passed the habit to my daughters, and now my nieces. Then I ask them questions about the plot and the characters, and later on relate these to real life. Take time to watch the good movies, too, a little from the savings won't hurt, considering the pleasure and enjoyment you get.



• United States
26 Apr 13
I have not seen it and I hope to see it soon . I am really excited to see this movie . Thanks for your mini review , I hope I enjoy it as much as you do .

• Philippines
26 Apr 13
Iron Man takes it upon himself to pleasure his self. Just watching him do that is already total entertainment to me. You will enjoy it, silverfox, and will leave the movie house with a warmed heart, ha ha!


• Mexico
25 Apr 13
My son aND brother a going friday night. I have to work. Glad you thought it was good. Ill pass that along to them here.

• Malaysia
25 Apr 13
just watch it just now too..few hours ago.. pretty entertaining..and lots of action.. i will give 8/10 for those action sequences.. this time theres lots of funny moments too..comedy relief etc..


• Malaysia
28 Apr 13
to be a perfect 10..usually ..must be high in Artistic value..like super regard of movie maker such as CHristopher Nolan who tackled the batman new saga..(dark knight trilogy) instead of making it a cheesy superhero movie..he turned it in an epic seriousness with plentiful of realism in it..so viewer can feel that the threat in the movie is unbearably real..or it seems.. Avengers ..i gave a 10 last time..but still ..i considered it as a fully loaded Action flick of superheroes movie..

• Philippines
1 May 13
Got what you mean, and I say that the Nolan is one brilliant movie maker. However, Marvel is comics, created for fun and entertainment. The fact that these superheroes have come to life, from comics pages to the film screen, that is already marvelous. These stories, though fiction, have given us the morals, subliminally, despite the violent action sequences. This is Disney, too, and meant for kids to enjoy. Kids already sense what is real through these movies, we can't let them see the more gruesome reality.

• Malaysia
2 May 13
@eileenleyva
ues.. so is DARK KNIGHT.its also from a comic book..DC comics..

• Omagh, Northern Ireland
25 Apr 13
The movie is running as I add this at several midnight launch showings-even though I'm working early in the morning,I was considering going to my nearest one,but decided against it...maybe tomorrow evening!

• Omagh, Northern Ireland
26 Apr 13
Didn't happen yet..as I said,I had an early shift at work yesterday and then ended up being stuck with a split shift meaning I got to go in again last night

Another Early today and have the evening free..


• Omagh, Northern Ireland
28 Apr 13
Yep..was a late show at the second closest Cinema to Me and I went along..Good show!