What is Halloween and where did it come from?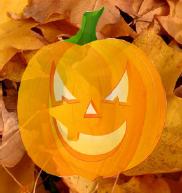 Pakistan
November 22, 2006 10:23pm CST
Halloween today is defined by children going house to house on the night of October 31st, dressed up in a variety of costumes collecting treats. Although Halloween may seem like a time for children to have fun carving pumpkins and collecting candy, not many know the origins of this 'festival' and its traditions that date back centuries. The origins of Halloween date back to the time of the Celtics or 'Celts'. They were a group occupying the area that is now Ireland, the United Kingdom, and Northern France about 2,000 years ago. This group celebrated their new year on November 1st . This day marked the end of the summer and was reflected upon as a time of darkness and cold as winter approached. The Celtics associated this dark time of year with death. On October 31st (the Celtic new year's eve) they celebrated a festival called Samhain. This celebration was supported by the belief that the ghosts of the dead roamed the earth. Priests ('Druids') were believed to be able to communicate with these ghostly spirits and tell the future by doing so; by telling the 'future' many were given hope for the long, dark winter ahead. The Priests built large fires on this night and the people gathered to burn crops and anima ls as sacrifices to the Celtic deities/gods. During the festival they wore animal heads and skins as costumes.
3 responses

• Pakistan
23 Nov 06
My pleasure Thanks for response

• Manchester, England
1 Jan 07
The term Haloween is actually an abbreviation of All Hallows Eve. The 1st November is All Saint's Day which is also called All Hallows, and is the day on which all Saints that do not have their own day are celebrated. This gave rise to the night before as being the last opportunity for witches and warlocks to roam freely.