"Need" Jesus! How Does Anyone NOT Need Jesus?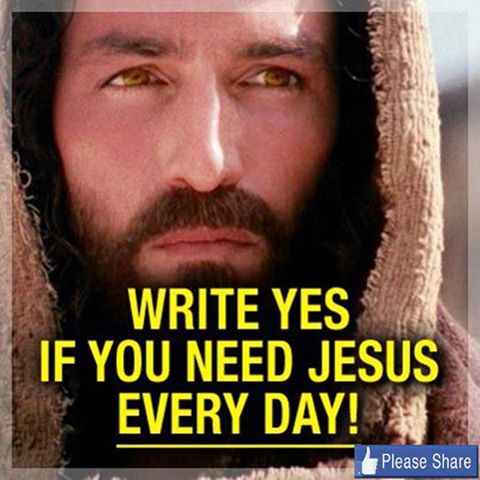 Oklahoma City, Oklahoma
November 25, 2014 12:33pm CST
This banner ... makes me sick! With people responding that 'Yes, I need Him every second of every minute of every hour of every ... etc.!' I just don't get it ... this looks like more 'evidence for the atheists' case' (I almost called it 'fodder for the atheist-beast'). If all that Christianity's God (supposedly Our Father) asks of his followers/children is 'that they cry out "Jesus!" when asked to state their case,' then I understand why atheists find "the worldly reality" to be more efficient an exercise. Luckily, that's NOT the will of Our Father. I think 'Jesus' (both the "historical" man whose story is told in the beginning of the New Testament of http://www.biblegateway.com/ the Holy Bible, AND the "metaphorical" human- & supernatural representations of Him in the Holy Bible's Old Testament) is now manifest as "knowledge of Christ"---as an example to follow. (You remember that He preached "The Gospel" while He was still alive (as a human)?)
1 response

• United States
25 Nov 14
People always tell me that I need Jesus.

• Oklahoma City, Oklahoma
25 Nov 14
Well, they're right if you aren't 'living like you know Jesus'; but people who know Jesus should be too busy being 'disciples' to talk about "needing Jesus" as if he's some Sugar Daddy who gives money & gifts to His Swee` Babies