What Were the Oklahomans (who Waved 'the Rebel Flag' at President Obama) Thinking?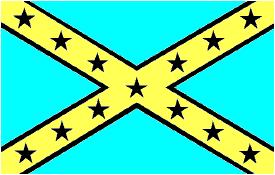 Oklahoma City, Oklahoma
July 31, 2015 5:54pm CST
President Barack Obama came to Oklahoma to become the first 'sitting' POTUS to visit a Federal Penitentiary. And as he did--Oklahoma Gazette reports--he was met TWICE (once at the prison, once when he came back to Oklahoma City) by crowds proudly waving the "Rebel Flag" (a.k.a. the southern cross ... shown, colored wrongly here). I hope they weren't thinking of "Southern Pride," because "Fun fact: The Civil War ended in 1865. Oklahoma didn't become a state until 1907.... @okcjohnson says, 'It would make just as much sense for youguys to be waving the Texas state-flag.'"
No responses