Most candidates for U.S.President aren't even trying to hide the fact they they only care about the wealthy.

United States
August 18, 2015 2:03pm CST
Many of our representaives in the Federal government only have a small group that they care about, the wealthy 1%! No surprising, most representatives on the Federal Government level fall into this catergory. In the past, candidates would steer clear of the topic of Social Security, often thought of as the "third rail" in politics. However, now, this is not the case! All of the Kochican's (formally Republican's) are actively speaking out about cutting Social Security or raising the legal retirement age, because that's what their "pimps", the Koch Brothers and most wealthy American's want. What I find humorous is that raising the retirement age won't effect any Congresspeople because 1) most have never done an "honest day's work" in their lives and 2) Congresspeople have a very attractive pension plan, paid for by the middle class. It won't hurt them in the least. Besides, in Congress most of them are well into their 70's and higher. The fossils don't have to worry about mandatory retirement. Hell, even if they didn't have the pensions, they have the millions in bribes they receive for every vote and can fall back on the fortunes that their mommy and daddies gave them.

Historically speaking, politicians who have attacked Social Security (oft-described as the "Third Rail" in American p...
2 responses

• United States
18 Aug 15
Bernie Sanders is for the lower middle class. He wants to do a few things that would really help all of us except maybe the rich. He wants education to be free or low cost because he thinks educated workers are better for the country. He thinks they should be paid a living wage and be healthy. A lot of the current candidates are out for either the folks that hate a certain group of people (immigrants, blacks, or poor,) people who are desperate to believe that their idea of freedoms will take over everyone else's freedom, and money money money.

• Oklahoma City, Oklahoma
19 Aug 15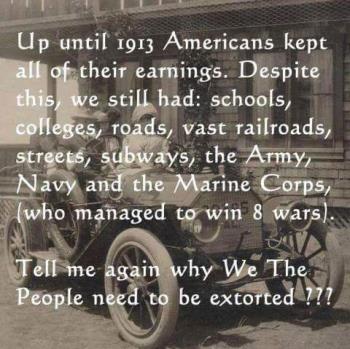 I don't want this to sound like one o` those "the REAL wealth is family or -peace or -the Holy Spirit's sparkley-sprinkling," but measuring 'wealth' by "account-balance" is examining a WHOLE FOREST through one glance through the microscope. (and yes, I know a 'whole forest' is much large than the few microns you see in a microscope ... I think that's the point---that you CAN'T judge the whole forest through one glance in a microscope!)