Jam Doughnuts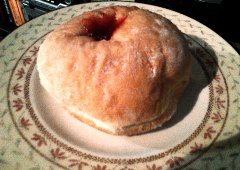 Australia
August 26, 2015 1:48am CST
Jam (jelly) doughnut (donut) is considered a traditional doughnut and very popular over here. It is best served warm with red jam (raspberry or strawberry). It could be jam-filled inside the bun or the jam is injected into a 'well' on top of the doughnut like what I have in my picture attached. I bought this one at a local small bakery - not a big franchise like Donut King (largest one here, similar to Dunkin Donut, I guess). Passing by it to get some groceries, I could not resist getting some as they smelled and looked so freshly made. Sure enough, when I got home to try them, they were simply delicious - soft, light, not too sweet, and with just the right amount of jam on top.

6 responses

• United States
28 Aug 15
I don't know what it is about jelly donuts, but they're amazing. I took my kids to Dunkin Donuts for the first time last year. It was love at first bite for the kindergartner, although she stuck with a kind that was filled with baked apples and dusted with cinnamon and powdered sugar up until I introduced her to the idea of Munchkins (donut holes). Now, whenever we drive to Phoenix, she begs me to stop and buy her jelly-filled Munchkins.


• Australia
28 Aug 15
Filled with baked apples... hmm, that sounds yummy! I don't blame her for wanting to get some whenever she has the chance.

Oh wait, are the Munchkins just jelly-filled or they also come in baked apples filled too? I don't remember seeing those here; the only donut holes I've seen are just normal cinnamon kind.



• Susanville, California
29 Aug 15
Yum yum! I usually don't have the jam filled kind but on occasion they are a delicious treat. If I was able to have donuts more often I would for sure be a lot bigger, they are so hard to resist!

• Australia
29 Aug 15
I don't either because I'm afraid it will be too sweet for my like. Glad this one wasn't, and the jelly was just on top with none inserted inside the bun. Good to see you
@jhechorain
!


• Susanville, California
29 Aug 15
Good to see you too :) I know some of them are really too sweet and I don't end up finishing it either.