The Bronze Snake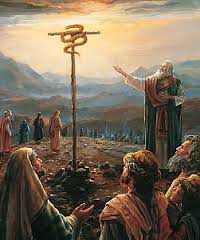 Malaysia
September 24, 2015 12:26am CST
In Numbers 21:4-9, after the Israelites have travelled from Mount Hor along the route to the Red Sea, to go around Edom, they started to complain to Moses again of no bread and water. Then God sent venomous snakes among them and many Israelites died. The people then pleaded with Moses to pray for their sins and Moses did. So God commanded Moses to make a bronze snake and put in up on a pole, so that anyone who was bitten can look at it and live. Why do you think that Moses would have thought the Lord's instructions were strange? In Exodus 20:4, God commanded, "You shall not make for yourself an image in the form of anything in heaven above or on the earth beneath or in the waters below." Is the bronze snake considered as an idol?
9 responses


• Preston, England
28 Sep 15
Maybe it should be in first aid guide books. If bitten by a rattlesnake or a cobra don't get anti-venom or suck the poison out - just find a bronze snake to touch as quick as you can.

• Preston, England
29 Sep 15
@Jlyn10
would a picture of one count? If I head for the jungle should I take a brass snake with me?

• Malaysia
29 Sep 15
@arthurchappell
I don't think picture counts. So you would have to make your own bronze snake if you want to go to the jungle.


• Djibouti, Djibouti
24 Sep 15
Snakes were frequent in Celtic art. A popular one was a snake with a ram's head. In antique sites you find also sometimes a lot of ex-voto deposited by people wanting to cure a decease : eyes, legs, arms... I think that the snake of the Hebrews was more an ex-voto with a prophylactic virtue (curing the bite of a snake) than an idol.

• Djibouti, Djibouti
24 Sep 15
@Jlyn10
Not at all if the ram's head is proportionate to the snake. Sometimes you don't even notice that a snake has a ram's head at first view, like on the Gundestrup cauldron.

From Wikipedia, the free encyclopedia Jump to: navigation, search The Gundestrup Cauldron Gundestrup Discovery site in Denmark The Gundestrup cauldron is a richly decorated silver vessel, thought to date between 200 BC and 300 AD, placing it within the lat


• Kakamega, Kenya
8 Feb 17
The snake was a rehearsal of good things to come. It represented our Lord Jesus Christ. Those who look up to Him as they did the bronze snake on the wilderness will be saved.

• Kakamega, Kenya
8 Feb 17
@Jlyn10
Moses was the most humble of all the people who existed on earth. He had known to obey God. He was educated bit when he saw the burning bush he never thought of going to investigate of further in a lab. Am sure he must have thought, "So God wants it done, I will do. I do not question God." How is your mylottong I hope you are enjoying.,

• Canada
24 Feb 17
The context shows that the image is not a problem unless it is is worshipped by some act such as bowing down to it. For example, in the most holy compartment of the tabernacle or the temple there were statues of two angels. See Exodus 25:18 and 1 Kings 6:23 Exodus 20:3-5 Young's Literal Translation 3 `Thou hast no other Gods before Me. 4 `Thou dost not make to thyself a graven image, or any likeness which [is] in the heavens above, or which [is] in the earth beneath, or which [is] in the waters under the earth. 5 Thou dost not bow thyself to them, nor serve them: for I, Jehovah thy God, [am] a zealous God, charging iniquity of fathers on sons, on the third [generation], and on the fourth, of those hating Me,


• Laguna Woods, California
15 Nov 15
I think that it was an idol, but only because people worshiped it. It was not simply a work of art.

• Malaysia
15 Nov 15
But in Leviticus 26:1 God said, "'Do not make idols or set up an image or a sacred stone for yourselves, and do not place a carved stone in your land to bow down before it. I am the LORD your God." Why would God instruct Moses to make an idol for the people to worship when He wants His people to worship Him alone?

• Green Bay, Wisconsin
9 Nov 15
It was a symbol of salvation first. Those who looked at it would live and not die. Jesus gave reference to the bronze snake in John 3:14-16. However, it was used as an idol as mentioned in 2 Kings when King Hezekiah destroyed the bronze snake because people were worshiping it.

• Malaysia
13 Nov 15
Thank you so much for the clear explanation. Do you think that Moses would have thought it strange that God had asked him to make that bronze snake for the people to look at when God had told the people not to worship any idols? I doubt Moses would question the Lord when He commanded him to do something.

• United States
24 Sep 15
Moses didn't make it for himself or them, he made it for God.