Do you eat your Jack-O-Lantern?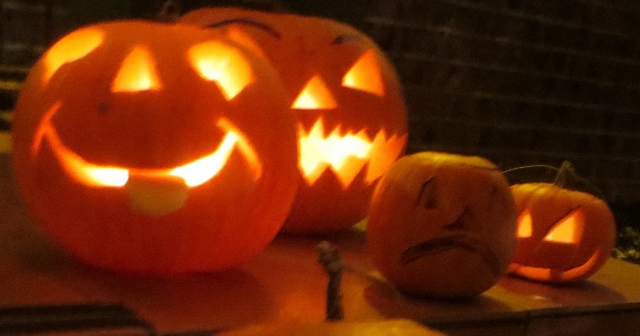 Canada
October 12, 2015 3:35pm CST
I am alarmed at what pumpkin is used for these days. I grew up with my mom making pumpkin stew and soups. Now pumpkin is a decoration that is cast away after Halloween. Yes there are pumpkin pies and so on but what do you do with the jack-o-lantern? Yes I do have jack-o-lanterns but I clean wash and prepare them to be eaten later. They go into soups and stews and pies. What do you do with yours? Image is mine
6 responses


• Canada
13 Oct 15
Good for you, I just hate to see food wasted when millions are starving

•
13 Oct 15
@Freelanzer
I hate that too.. at least give it to someone if you don't eat it.. I am sure there are needy folks all around.

• United States
12 Oct 15
We can't eat our jack o' lanterns - by the time we are done with them, ol' Jack is wrinkling up and starting to mold! However when we do scoop out the insides, I will roast and season the seeds for a treat. For homemade pumpkin treats, I will get separate pumpkins just for cooking.

• Canada
12 Oct 15
I make my jack-o-lanterns on Halloween so they are only out for one night and it is usually cool enough that they are preserved.

• United States
12 Oct 15
@Freelanzer
Oh ok, well that makes sense. Yours is freshly cut for Halloween! We have to do it days before because we just don't have time with all the running around that we do. And of course by the time it's Halloween, the Jack o lanterns will have already used up their lives!

• Vancouver, Washington
12 Oct 15
i don't have jack o laterns that get cooked but i do pumpkin pies

• Canada
12 Oct 15
I am able to cook my jack-o-lanterns as I cut them the same day of Halloween so I am able to use it the following day.

• Philippines
13 Oct 15
Sad to note how pumpkin is wasted. It is a very nutritious stuff to be wasted just like that.

• Roseburg, Oregon
13 Oct 15
Here they cost $5 each just to buy one. I would never spend that much to buy a pumpkin


• Philippines
13 Oct 15
@jstory07
that expensive! It is one of the cheaper vegetable in the market here.

• Roseburg, Oregon
13 Oct 15
I have not one one since my youngest children left home.


• Canada
13 Oct 15
My kids have left home but I still keep up the Halloween traditions since there are many young children on the street who enjoy it.

• Malaga, Spain
15 Nov 15
I make pumpkin soup from the flesh cut out of the pumpkin during carving, mainly. The pumpkin itself goes mo(u)ldy quite quickly after carving, especially with a candle burning inside it for the 2 or 3 days around Halloween, and is unusable - so these get composted. The seeds I used to roast, but not many like them any more, so that part gets put in the food-waste recycling bin.