Its summer here and our bird bath is in great demand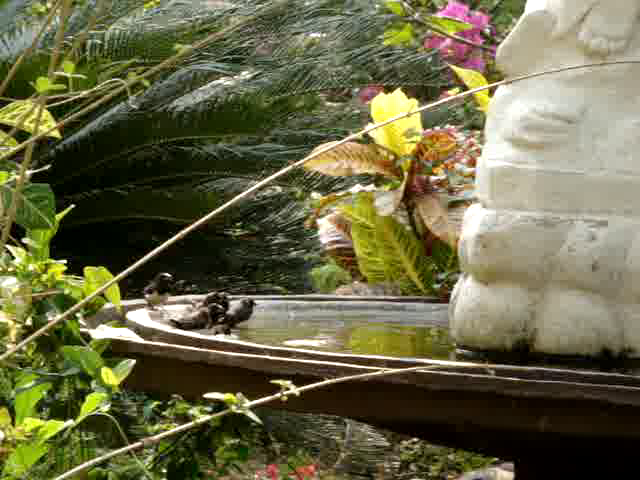 India
October 23, 2015 5:25am CST
Different species of birds will be seen taking their turn to frolic, in our bird bath. It is a pleasure to watch specially these little ones who will only be seen on the edge of the tapering bath. They know if they go a little further they will drown.
7 responses


• Greece
23 Oct 15
What a beautiful photo of those little birds daring to paddle. The summer has gone here now but I see the magpies coming down to drink the rainwater.

• United States
24 Oct 15
that's what i miss with my pond bein' in current disrepair. the birds used to fuss 'n fight o'er who got to bath in the waterfall. i've'd the need to fish a few out with a net when they've ventured too close to the edge 'n wound up in the pond...'r were knocked off by 'nother bird who didn't wish to wait their turn. most entertainin' n relaxin' to watch 'em, aint it?

• India
24 Oct 15
This birdbath is so designed that birds of all sizes can safely bathe in there. It is a pleasure to watch them. sitting in my favourite seat in the hall when I am not myLotting.

• United States
24 Oct 15
@allknowing
i'm near constantly distracted 's the birds here come fer shelter, food 'n water durin' the summer. that peripheral vision catches each movement 'n it draws me near.


• India
24 Oct 15
My birdbath is tapered so the birds know their limit. Just as how I used to swim only in the shallows of the swimming pool

Watching a crow bathe is fun too. It will splash half the water out. I have several videos of all these birds doing their thing.

• Preston, England
23 Oct 15
I have an ornamental bird bath too - always nice to see birds using it


• India
24 Oct 15
They are not more than 3 inches and yet they dare to come to the bath.They come in groups. They will swim on the edges of the birdbath.