UFO Sighting or a bite of Alice's mushroom?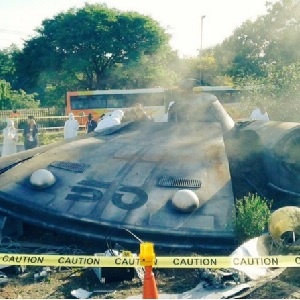 South Africa
December 1, 2015 3:05pm CST
There is such a HUSH and FUSS going on in SA today after an apparent UFO sighting had every strange, pot smoking person look to the skies and think it was Doomsday or Armageddon. 1st December delivered some excitement and sure got the Metropolitan Jozi buzzing - or should I say a little Frenzied? NEWS24 reported: A UFO was allegedly sighted in Cape Town on the weekend, with pictures doing the rounds on social media of a green light hovering in the sky above the Mother City on Saturday night." (we all know how crazy the parties get on Long street) "New "videos" have emerged on Twitter of similar lights now appearing above the Johannesburg skyline, And this morning, a strange "crash site" was erected" Its all a Tweet and Twitters are twisting the truth - who knows what has landed. Lock your doors rest of the world, something has arrived. It seems a little boys android has eaten Alice's mushrooms?!
8 responses


•
2 Dec 15
Had no idea! I guess i haven't been paying attention to all the twitter :-)




• United States
2 Dec 15
So any little green men or women spotted ?

• Centralia, Missouri
1 Dec 15
I wonder if the aliens brought neighborly baked goods


• Green Bay, Wisconsin
2 Dec 15
Very interesting. Alice's mushrooms indeed.