A Pile of Porcelain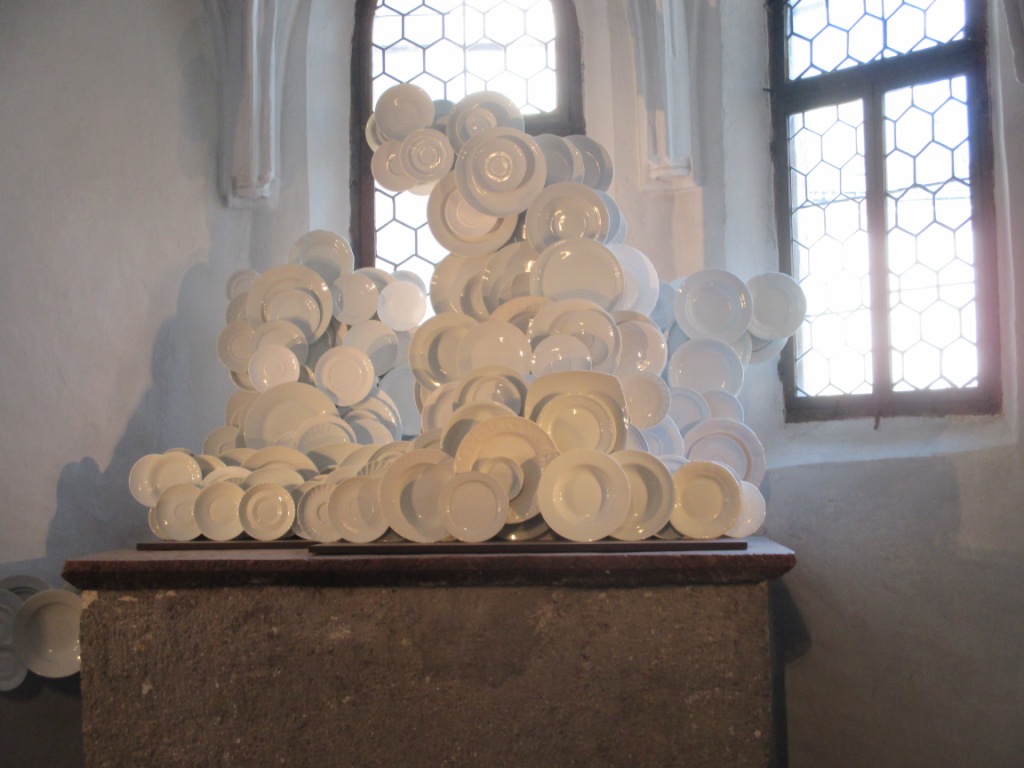 Bunbury, Australia
December 15, 2015 8:04pm CST
I admire creative people and often wonder what goes on in their minds that leads them to create their sometimes beautiful and individualistic work. In the Hohensalzburg Castle in Salzburg, I saw this sculpture created from white crockery. Cups, saucers and plates were glued together to create an interesting 'creation'. I'm not sure what I think about it. I read once that there are three words you can use when you don't want to be rude but don't really know what to say without causing offence. These words are 'different', 'interesting' and 'unusual'. Do you have a word for this sculpture? And do you like it or are you choosing a word that is a bit noncommittal? Added later: I found my photo of the sign accompanying the sculpture. It says: 'Cloud ' is the name of a sculpture composed of plates,which was created by the Austrian sculptor Markus Hofer. The inspiration for it was born of his preoccupation with clouds in the history of art. Clouds are very frequently found as motifs on altars and altarpieces in churches, where the cloud is a symbol of heaven, closeness to God, and fugacity. The plates were provided to the artist by various families in the context of a special initiative. Therefore Hofer's sculpture itself now tells a great deal about people whose stories become part of the new form and are then lost in the 'Cloud'.
7 responses

• United States
16 Dec 15
Clean

The dishes that pile up in my sink certainly don't shine like that - ha ha! I wonder how they were all held together?!

• Bunbury, Australia
16 Dec 15
Yes, they are lovely and clean. I guess they are just glued. You couldn't really see how they were held together.

• United States
22 Dec 15
@JudyEv
I imagine there must be some kind of framework hidden in back and they might be attached to it? That must weigh quite a bit!

• Bunbury, Australia
22 Dec 15
@much2say
It does look as though there is something behind the big groups of plates. I should have paid more attention when taking the photos so I've cut off some that are sort of sliding off on the LH side.



• Bunbury, Australia
24 May 16
i quite liked this. Something a bit different.


• Bunbury, Australia
16 Dec 15
I liked the fact that it was so clean too. It wouldn't have been the same if the plates had been coloured.

• Momence, Illinois
16 Dec 15
Yup interesting seems to fit the bill.

• Bunbury, Australia
16 Dec 15
It amazes me how they come with their ideas.

• Momence, Illinois
16 Dec 15
@JudyEv
and how sometimes something which we don't see or understand constitutes art.

• St. Petersburg, Florida
16 Dec 15
"Dust catcher" comes to mind!


• Bunbury, Australia
16 Dec 15
Haha. Too true! Hopefully you'd have someone to do the dusting.

• Canada
16 Dec 15
I think it is beautiful but then I come from an artist background and like creating all sorts of things. Added to the fact that all my kids went in to the art field so I have been to dozens of open houses with all sorts of the oddest creations which I always found fascinating

• Bunbury, Australia
16 Dec 15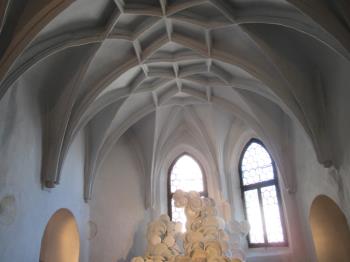 @Freelanzer
I'm pleased you like it. I've edited the post to include the explanation which stood alongside the piece. I'll also attach a photo here which shows the ceiling of the chapel where it was displayed.

• United States
16 Dec 15
I think unique sums it up for me. I actually quite like it

• Bunbury, Australia
16 Dec 15
I like its 'whiteness'. It looks quite pristine.