How do you decorate your tree?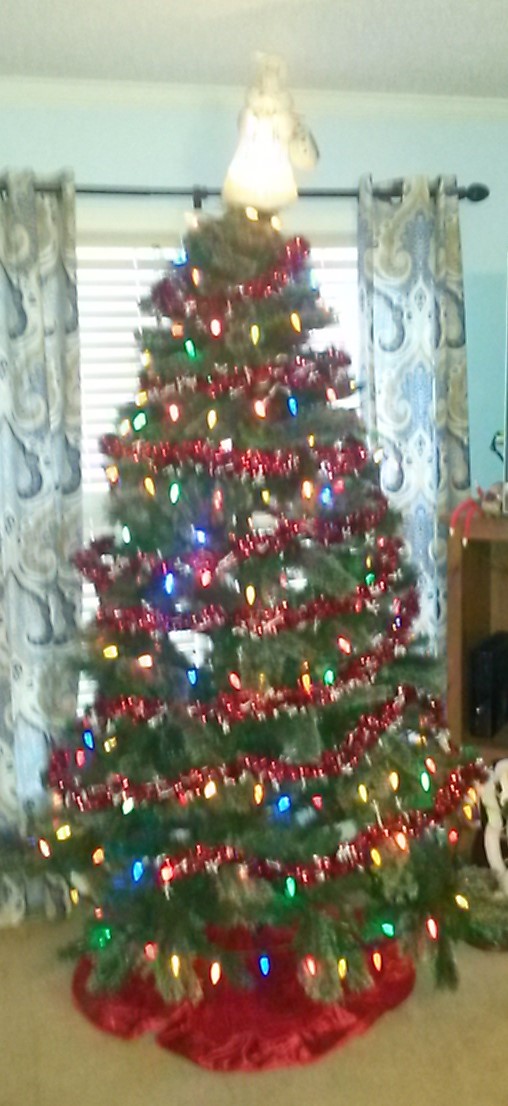 Pikeville, North Carolina
December 20, 2015 5:37pm CST
This year we are decorating our big tree in a different manner than we have ever done in the past. Because both of the boys were away until just before Christmas - the youngest came home Friday and the eldest will be home Wednesday - my missus and I did not put up the big tree until yesterday when Son2 was home to help with the lights. Instead we put a small tree on a table off to the side of the living room. Today, Son2 and I put the tinsel on the tree. Tomorrow evening, we will start adding a few ornaments, but not too many. We want to save enough for Son1 to do when he gets home on Wednesday. Do you put up a Christmas Tree? If you do, how do you decorate it?
10 responses

• United States
22 Dec 15
Yes we put up a 6 ft. fake tree with lights and plastic ornaments. The kids help us put the ornaments on every year and we forego anything glass. We put ours up the weekend after Thanksgiving.

• United States
31 Dec 15
We bought an artificial 5 1/2 foot tree pre-lit with multi-colored lights, old ornaments in both glass and metal from the good ole Christmases we had, ribbons from previous gifts I kept over the years, garland and a little tinsel. It is still up and awaiting the 'little Christmas' celebration recognized by Eastern Orthodox Christians since both wonderful types of customs are appreciated in my family . . . Hope your Christmas was good
@Shellyann36
and your New Year, great !

• United States
2 Jan 16
@enlightenedpsych2
I save bows and ribbons from gifts as well. I will even save Christmas paper if it is pretty and not messed up.

Sometimes I use the bows and ribbons over again on gifts or I use them in crafts. I have seen people take them and arrange them on a paper plate and then string them up over their curtains as if they are giant Christmas ornaments the following year. I think that is such a neat project and a great way to remember a past Christmas. This year at Dollar General I just saw a great idea that I intend to do myself for next year. Little decorated clothes pins on jute or decorated raffia (sp?) to hold Christmas cards. I must admit that I keep them every year and I always hang them up. Our Christmas was pretty darn good and so was our New Year celebration. I hope your family enjoyed yours as well!

• Roseburg, Oregon
20 Dec 15
We do not even put up a big tree. We put up a little two foot tree.

• United States
2 Jan 16
@jstory07
does the furbaby mess with the tree? I have seen so many youtube videos this year about cats and dogs messing with Christmas trees. It is rather funny to watch but I am sure it is a pain to clean up.


• United States
21 Dec 15
When it comes to decorating trees I am a conformist. Tree is pre-light, then beaded garland, then ornaments....no tinsel on fake trees.


• Winston Salem, North Carolina
21 Dec 15
My kids usually work together to set up our tree. That will probably change over the next few years as they start moving out and on with their own lives.

• Banks, Oregon
21 Dec 15
Very nice tree and, Merry Christmas.

• United States
21 Dec 15
That is a very pretty tree. We might put out little table top one up this year.


• United States
20 Dec 15
I put the Christmas tree up last week. By Friday, the toddler had knocked it over and broken one of the base pieces off of it. We didn't even get more than the lights on it this year. I'd been planning to use the red and gold ornaments I bought last year during the clearance sales, but have reconsidered after realizing that the tiny tornado isn't quite at a point where she's going to leave the tree alone. Glass bulbs + toddler = NOPE. Maybe next year. I'm tempted to get out some pipe cleaners and use them to fasten some pine cones into the branches. I have several hundred of the things around here, and it won't be a big deal if she destroys them. Makes me glad I didn't end up getting the really nice, expensive tree I found on clearance after Christmas last year!