In Tahiti - Today's Special: Smoked Turkey For Just 30 Bucks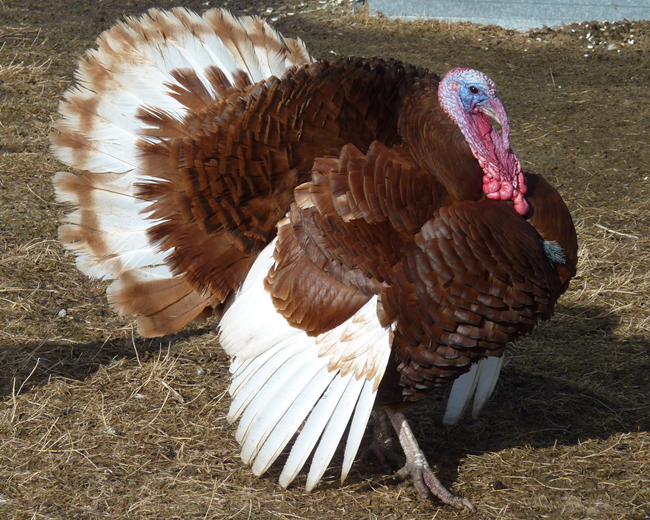 French Polynesia
December 21, 2015 8:45pm CST
Today the turkeys, clams, muscles, snails, shrimp and lobster arrived from France. I know the turkeys don't come from France but the US to the islands. Well anyhow this year was a shocking surprise to see the prices. A small turkey of 6 pounds or so cost 30 dollars. Yes folks it is 30 bucks to buy a turkey. If you have a large family you'll need 2 otherwise there won't be enough Fresh Leg of Lamb sold for 28 dollars for the package of 1 lamb leg. But here is the best one. If you love lobster you'll love this. Large Fresh Lobster swimming in the tank went for 99.95 a kilo. So one kilo is around 2.25 pounds. Fresh clams, muscles, snails and shrimp sold anywhere from 49.90 dollars a kilo to 89.90 dollars a kilo. So guys my advice to you for Christmas dinner is to not shop in Tahiti for you Christmas dinner. This is the most expensive I have ever seen this on the islands. I have been here over 21 years and never before have I seen a small turkey sold for 30 dollars. But if you love chicken you can get a large carton of chicken that has 23 giant legs and thighs in it for $11.50. Happy Holidays – we will enjoy the most expensive smoked turkey in the markets world wide. This year we won't go for lobster or even claims, shrimp or other delicious sea food. However, right after Christmas is lobster season here and we can get our lobster for free. So who needs to pay 150 dollars to have lobster on Christmas. Image source - wilipedia creative commons.
6 responses

• Ireland
23 Dec 15
Oh, there was I thinking it's fairly reasonable... Need to do a sanity check! Our leg of lamb is only 12€

• French Polynesia
23 Dec 15
Not here on the islands. It was like 28 dollars if you convert our money to dollars. CFP is our own currency here on the islands. We were thinking to go to euros some time back but this was voted out. The people here like the money the way it is and they are use to this one. We never used French franc so they decided not to use euro too.

• Ireland
23 Dec 15
@poehere
ok so I should go and pick up the leg of lamb! it sounds to cost effective at this rate!

• French Polynesia
23 Dec 15
@Drosophila
I hope you and your family have a wonderful holiday. Please enjoy the leg of lamb for your holiday feast. Here we will have a baby pig, goat, fish, veal, and a turkey. I guess the family we are staying with will have the whole crew here this night. So there will be so much food it will be amazing to see it all.


• Canada
27 Dec 15
I remember having smoked fish when I was a child...now I've got a craving:)

• French Polynesia
27 Dec 15
It was good and everyone ate it all. Nothing left at the end of dinner.

• Otis Orchards, Washington
22 Dec 15
I understand a bird flu here in the US has wiped out a lot of turkeys which has driven the price up. Although turkey is one of my favorites I rarely buy it. My brother and I take our mother out for dinner on Thanksgiving and Christmas so there is no need for me to buy a turkey.

• French Polynesia
22 Dec 15
Wow I had no idea at all this one happened. Now I can see why this Turkey doesn't look any larger than a duck or large chicken. But anyhow I love turkey and we only can get it once a year here on the islands. So I bought one for Christmas. I was just a little shocked at how much this one cost.

• United States
22 Dec 15
So pricey! I hate that we have to pay so much for a product that's been imported in. I think if I were you I'd invent my own kind of Christmas dinner to have, something fairly priced with your own spin to it.

• French Polynesia
22 Dec 15
We are spending Christmas here on the islands and with the family we are staying with. We all decided to go shopping today because the boat came in. Each of us decided it was best to get a turkey for the family. There are two of us who basically don't eat meat at all. So we wanted turkey. I know they will cook a goat and more than likely a lamb or a pig because they raise them here. But we won't eat this and decided to help the family by getting some food for all of us.

• United States
22 Dec 15
@poehere
I have had lamb meat but have not had goat before. I think it's was very kind to get food to contribute, and I am sure the family will appreciate it as well. So did you each get a turkey or did you all pitch in for one? I was a bit confused with your wording.

• French Polynesia
22 Dec 15
@ScribbledAdNauseum
No the 4 of us went shopping and just bought food. We put it all in one cart and then paid for it together. This is sort of how we have been doing this since we arrived here. The family doesn't want us to go shopping and buy food but we like to do this one. The family we stay with has 7 people to feed daily and now the 4 of us. 2 of the people eat a lot and the other one and myself don't eat that much at all. But we still go shopping at least once or twice a week and buy a lot of stuff the family needs and that we like to eat too. Like I said there is one other person and me who basically live on fruits and vegetable, fish and chicken. So we help out and buy a lot of stuff to bring home. This way when we leave the family still will have food for them.


• Philippines
22 Dec 15
here it is christmas ham, but a while ago, our rich new neighbor gave us one so yay!

• French Polynesia
22 Dec 15
Wow that was nice of them to do this. Here they will roast a baby pig so the ham is there in the pig. I don't eat this or do I eat the goat they will cook either. My friend from the US doesn't eat this either. So we decided that a turkey will add nicely to the pig, goat, and fish we will have here for dinner.

• Manchester, England
22 Dec 15
We have a similar situation here in England every year with tradition Christmas fare rising sharply in price as the season approaches, but not to the same extortionate degree as that. Despite the reasonable cost of adequate alternatives, there are still certain to be many who will pay that outrageous price, which is why they manage to get away with it.

• French Polynesia
22 Dec 15
I do agree with you on this one. I was shocked. But then again that is how it goes when all is imported to the islands and we don't have much choice in what we can get.