Underwater Britain!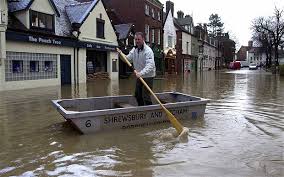 Sudbury, England
December 28, 2015 12:31pm CST
Northern Britain has spent most of the Christmas holidays and aftermath, bailing out or evacuating their homes and businesses, after some of the worst floods on record, and ongoing, with storms and adverse weather just keeping on coming in waves. I feel so sorry for those poor people, bad enough any time of year, but at Chrismastime, just horrendous. Even worse some areas are only just recovering from floods earlier in the year, and just as they were getting back to normal and being able to live in their own homes, it's happened again, only worse and there can't be many UK rivers that are not on 'Flood alert' now. There is going to have to be a serious rethink of flood defences here, and in many other parts of the world, that seem to be suffering the same fate. So apart from blaming everything on Global Warming... what to do about it, in practical terms, needs answering, right now, don't you think?
10 responses

• United States
28 Dec 15
Well Jenny, I feel so bad for the people of Britain with the floods and particularly at holidays. Yes indeed something has to be done to secure the land, though it is an island and really this should have been prepared for by some great thinking scholars long ago..I agree. I do not know exactly what that might be, but yes someone has to think of something quick before the ocean comes in on top of it all!

• Sudbury, England
28 Dec 15
@TiarasOceanView
The government have spent millions ,so they say, on defences, all of which have been overwhelmed by 3mths rain falling within a few days, last time it happened it was referred to as 'a once in a lifetime occurrence'...well obviously not!! So what's the point of chucking more money at it, with the same results, and people left to pick up the pieces, even if they can. Surely in this age of technology, there has to be a better way, as it will no doubt happen again and worse, when will governments stop tinkering around the edges, and actually get to grips with this very real problem....And stop allowing house building on Flood Plains, might be a start...


• Sudbury, England
28 Dec 15
@TiarasOceanView
Well maybe if one of those 'scholarly minds' were to be flooded out of their homes, we might get some action


• Banks, Oregon
28 Dec 15
Yes, people really need to prepare better for it. I live on a hill and, flooding still even effected us to a extant, with loss of power, because of trees falling and, water over the road at the bottom of the hill, we have got 15 inches just in December.

• Sudbury, England
28 Dec 15
@TRBRocks420
So when are governments going to stop tinkering and get to grips with the growing problem, which at the end of the day will affect everyone. Thankfully I too live on the top of a hill and in the South of the country, so thankfully not affected....at the moment, but who knows, who or where will be affected next...


• Mumbai, India
29 Dec 15
Definitely we should not play the blame game on this global warming situation. Rather we should be more concerned about finding some logical solution to this problem. Now we can see these types of natural disasters are happening frequently. This is not a cause of some few days mishaps it is occurring due to our own deeds and it will take time, but we have to start taking action now otherwise it may be too late.

• Goodfellow, Texas
4 Jun 16
@bookbar
- Ms Jenny - I wondered where all of our recent rainstorms came from, and here I see that you folks sent them over to us in southern Texas. I suppose we will have to return them to you shortly. But thanks for the lending of them.


•
28 Dec 15
I live in the Flatlands and we have *a lot* of drainage in the form of massive man-made ditches. We also have fields which are designed to flood so that homes aren't flooded. I don't know if it would work elsewhere in the UK. My town would have been an island for a few months every year until they built the drainage bits, and I suspect that Mummy Nature will attempt to reclaim the land for the water at some point in the future. I feel so sorry for those folk up north.

• Tucson, Arizona
28 Dec 15
Seems to be a lot of places around the world that is having a lot of bad weather. Maybe the worst year ever


• Momence, Illinois
28 Dec 15
Yes as it's bound to happen again and maybe in the near future.

• Northampton, England
28 Dec 15
Number one. Stop building on flood planes - hence my post earlier today.