Stop losing your cellphone!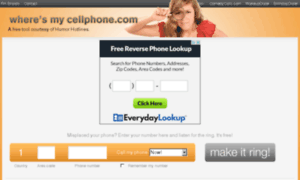 Tacoma, Washington
January 16, 2016 11:54am CST
Are you like me and misplace your cellphone just moments after using it? Between my absent-mindedness and a 4 year old, my phone seems to have a pair of legs and it walks away all the time. After having to find the land-line phone to call my cell phone, I decided enough was enough. After a bit of brief research, I discovered a website called Just enter your phone number into the text field and the website will either call your phone, or send a text message. It has been a lifesaver for me. It won't improve your memory, but at least you will find your phone more quickly. Give it a shot!
www.wheresmycellphone.com.
8 responses

• United States
16 Jan 16
I have an app for this on my apple I phone


• Tacoma, Washington
16 Jan 16
I do this all the time at grocery stores. I have had many cashiers shouting after me because I left my bags. Glad I am not alone.

• United States
16 Jan 16
If they had some way to find a phone that's turned off, that would be great because that's usually how it is when my phone gets lost.

• Tacoma, Washington
16 Jan 16
LOL, that is definitely the worst! It has happened to me a few times.


• Tacoma, Washington
16 Jan 16
Yes. I suppose it wouldn't be helpful if your only internet access is through your mobile data.

• Canada
17 Jan 16
The landline, my husbands cell phone, even my daughter when she visits has been asked, could you call my phone. It's missing again.