She makes a full bowl salad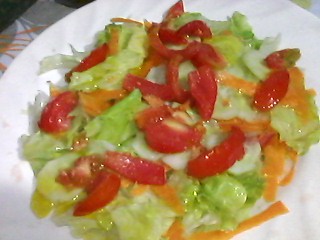 Philippines
January 25, 2016 4:41pm CST
Hello Lotters, When the doctor advise to eat more veggies and lessen the consumption of fats, grandma was very happy. We had to go to market and buy some lettuce, cucumber, carrots, and tomatoes, to the point were she wanted to add spinach and other stuff that doesn't exist in our public market. Not only veggies but bought fruits as well. She wanted to make my breakfast and snacks, but it was more like she was controlling again on how I eat. I do appreciate her making me a veggie salad, however, the bowl was a little too big for me. I'm supposed to eat little and yet i get this big bowl of salad! not to mention the olive oil was too expensive. but at least we get to use the garlic and pepper we bought the last time. BUT! I remember the doctor's advise that I should at least eat HALF of that bowl, not full. Well, she wasn't listening and thought it was just enough. She wasn't even interested in teaching me how to make one! Except this morning I decided to make one myself.
6 responses

• United States
26 Jan 16
That is very nice of your grandma, she is doing that because she wants you to be healthy. I sure need to eat more vegetables also.

• Philippines
26 Jan 16
And she made another one today

in a bowl. well, i could that myself if only she could teach me how. the internet had been helpful too. yeah, it's nice of her but she's way putting way too many vegetables in the bowl, when i bought them i wanted to last them a week.

• United States
26 Jan 16
@Letranknight2015
I know what you mean! Grandma and even parents tend to overfeed.

Especially since you're transitioning into eating healthy its hard if it's so much at once!

• Philippines
26 Jan 16
@infatuatedbby
I don't mind the full bowl meal, it's just that fruits and vegetables here are expensive as well.


• Philippines
26 Jan 16
Wow! How I wish I have a grandma here... =)

• Philippines
26 Jan 16
Unfortunately, were running out of veggies. might as well put the lettuce out of the list, others might as well work for me and price is affordable.
@brokenbee

• Philippines
26 Jan 16
@Letranknight2015
is it expensive at the moment? The last time I bought one was at 70 pesos per kg. I remember it was 25 per kg before in Baguio City.

• Philippines
27 Jan 16
@brokenbee
it's either 78 or 90 here in our market. wow that is so cheap you are lucky.


• United States
26 Jan 16
Yah, I guess that does seem a bit controlling, eh? It's nice of her to do that for you, but ultimately you gotta control you. Would she be offended if you saved half the salad for a later meal?

• Philippines
26 Jan 16
You know lettuce here can be expensive, I really do want to at least eat it in half because that's what the doctor said. I think she's offended already when i ate the pasta lol No I want to do this myself, because I know what can be my limit, she just thought i won't get weight if i have that much salad in the bowl, which is not true.
@much2say

• United States
28 Jan 16
@Letranknight2015
Ah, I didn't realize lettuce was expensive out there. I hope they at least have a variety out there - not just iceberg. She reminds me of my daughter's friend's grandma (they are from the Philippines). Grandma (and Grandpa) lives with the family and she controls the household - they do all the cooking and cleaning and don't even allow their grown kids (the parents of the friend) to do much. I offered to help her cook once as she was doing all the preparation for the get together - and she said no, that it takes many, many years of experience to do what she did (I only offered to stir!!!!!). She even still spoon feeds her grandson (my daughter's friend) who is almost 11!! Yah, I know you can control yourself.

• Philippines
28 Jan 16
@much2say
maybe i should buy a new salad dressing and the olive oil isn't giving any sweet taste for me



• Philippines
26 Jan 16
Well,
@youless
she is really concerned with my health and truly wants me to loose weight. At least I know how to make vegetables now, she even made me fruit salad for the next morning's break fast. hard to believe she would really made some for me.

• Guangzhou, China
27 Jan 16
@Letranknight2015
Grandmas always adores grand children


• Malaysia
27 Jan 16
It's so nice of your grandma, though sometimes the parents or grandparents might not listen to us.

I like eating vegetable and fruit salad. Sometimes I just cut them into pieces, without adding any seasonings or olive oil. I think they taste very good that way too.

Yes, olive oil is really expensive.

• Philippines
27 Jan 16
she made a lot again today
@kaka135

, wished i could cut in half of the meal but the tomatoes easily gets rotten and it could affect the whole salad. I don't even know why she wanted olive oil,vinegar, salt, crushed pepper and garlic to be added to the salad. i didn't know you don't need those ingredients for a salad.

• United States
25 Jan 16
Never had anyone telling me what to eat.I eat what I want.Yes,have plenty of greens,vegetable ya ya. I do not listen to him.My life my choice

• Philippines
26 Jan 16
This is why I appreciate my mom more now
@amadeo
because she respects what I eat. but of course, in the past she was worried about me over eating, which i used to do. well, since it's my choice to go on diet, i want to make meal diet for myself. Im not a child anymore which grandma doesn't realize.