Do you think the marmite delicious?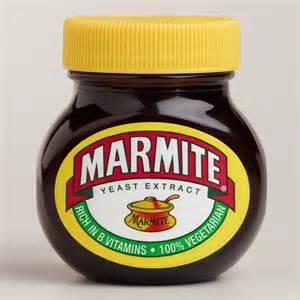 Guangzhou, China
February 17, 2016 1:45am CST
I have never heard about marmite until I read a post about it yesterday. To my surprise, the writer described that the marmite is the most terrible food in the world. It is extremely salty and smells badly. If you want to lose your weight, then the marmite is a good choice

10 responses

• United States
17 Feb 16
There is marmite and then there is also Vegemite. Vegemite is the Australian variant, and from what I have heard, is much stronger. Marmite is just a yeast type spread that some put on their bread. I've not yet tried it but would like occasion to do so. They have chips with marmite on it and I've even seen a marmite type fudge made as well.

• United States
18 Feb 16
@youless
I wonder if you would be able to get it imported into you? We used to carry Vegemite (the Australian Variant) at the grocery store I work for here in the USA. However, we no longer do. I have found sellers of it online but am not sure it's worth the cost for something I may not like at all.

• United States
18 Feb 16
@owlwings
I've not seen Marmite in any of the supermarkets around here but havent' looked in the more specialized stores either. The store I work for has British Import but mostly Walkers, Irn Bru, Robinson, Vimto, Annie's, Heinz Hoops, and some Chocolate like Bounty. The vegemite we have is sold in the same area but it was around $7.00 to purchase. I'd like to try Marmite but I'd still be spending around 8 USD online.


• Cambridge, England
17 Feb 16
Marmite is a very dark brown, smooth, very salty paste. It actually made by breaking down yeast cells with salt and has a unique smell which many people dislike. It is a very good source of B vitamins. It is usually eaten spread VERY thinly on toast but is sometimes used to make a stock (just a teaspoon is enough to make a litre of stock). The nearest way I can describe it is like a very concentrated, dark soy sauce (soy sauce is actually made in a somewhat similar way by fermenting soy beans with salt). The taste - apart from the saltiness - and smell is rather different from soy sauce, however.

• Cambridge, England
18 Feb 16
@youless
I'm very fond of Marmite and I don't like Vegemite very much (it seems to be gritty, whereas Marmite is smooth). Of course, I also like marmalade or strawberry jam on toast (I'm not very keen on peanut butter, which sort of sticks to the roof of my mouth, and use it mainly for making a sauce for chicken).



• Cambridge, England
18 Feb 16
Only a very brave and committed Marmite lover would eat it from the jar with a spoon! It is far too salty for most people to do that and you literally need no more than a knife tip's worth (maybe a quarter teaspoon or less) for one piece of toast! It is perfect heaven to take a piece of toast spread this way, cut it into fingers and to dip them into the rich yolk of a fresh, free-range boiled egg!

• United States
17 Feb 16
I am crazy for Marmite, I put it on toast with slatherings of butter my fav way to eat it. It is a bit salty but I like it.

• Banks, Oregon
17 Feb 16
I have never tried it, but it doesn't sound to appetizing lol.

• Denmark
17 Feb 16
I was introduced to marmite when I was living in Scotland. Many of my co-workers liked marmite sandwiches, and they offered me a marmite sandwich as well. I like to eat new kinds of food and I accepted the sandwich, but I really didn't like it. It is hard to describe the taste, but it was very unusual and different from other kinds of food that I have eaten. I am never going to eat it again


• Bunbury, Australia
17 Feb 16
We have Vegemite in Australia and some people don't like that either. It is also very salty.

• Roseburg, Oregon
18 Feb 16
I never heard of it and I do not think I would like it.

• United States
17 Feb 16
I have never heard of or tasted Marmite. Should give it a try. Would need to read the list of ingredients though. Of I go to do just that.

• Philippines
17 Feb 16
first time I have heard of it and I would like to try it, I'm not picky with food so long as I am not allergic to it.