Get to the point, mr. Online Dating Website Guy

United States
February 20, 2016 9:25am CST
I recently started perusing an online dating site, since I seemingly don't meet new people in every day life anymore. I haven't actually met anyone off of this site, but I know others who have had OK experiences. So, what the heck. First, I had to spend the time setting up the profile for a bit, and uploading a pic (and picking which to upload! more difficult yet, ha). Anyways, not to drag it on - I started talking to this guy 2 days ago - a little bit older than me (about 7 years, not a big deal) and he initiated it, we got to talking about our lives, where we work, what we do for fun, which bands we like. I thought this guy was cool - and had similar music tastes as me. Anyway, I talked to this guy on and off for about 2 days until the truth finally came out: he is looking for a friends with benefits situation! So I stopped chatting with him. Crap! That is not at all what I am looking for; definitely looking for boyfriend material - not just a FWB situation. I feel stupid now, for not bringing this up earlier. It says what I am looking for on the profile. Guess he didn't read that. You can bet the next person to message me will get a response back from me saying "Outline for me exactly what you are looking for. FWB's need not respond." Haha. Oh, the woes of online dating. Any good stories in this category? Anyone else suffering through online dating?
5 responses

• United States
20 Feb 16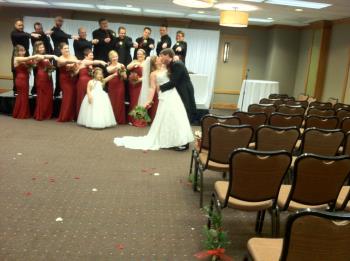 My son met his wife through a dating site. Too peas in a pod are they. They were married in December, a Christmas-themed wedding. They met three years ago and were just made for each other. So, there is someone out there and it takes a bit of time to find the right partner. Best of luck to you!

• Momence, Illinois
20 Feb 16
My brother met and married a woman he met on an online dating site. They have been married now for 16 years. I don't blame you I wouldn't play that FWB mess either.

• United States
20 Feb 16
My son also married the girl he met online. Happy as can be.



• Philippines
21 Feb 16
That's just the same thing offline. It's hard to date nowadays.