Rubio Hitting Trump From Head To Foot!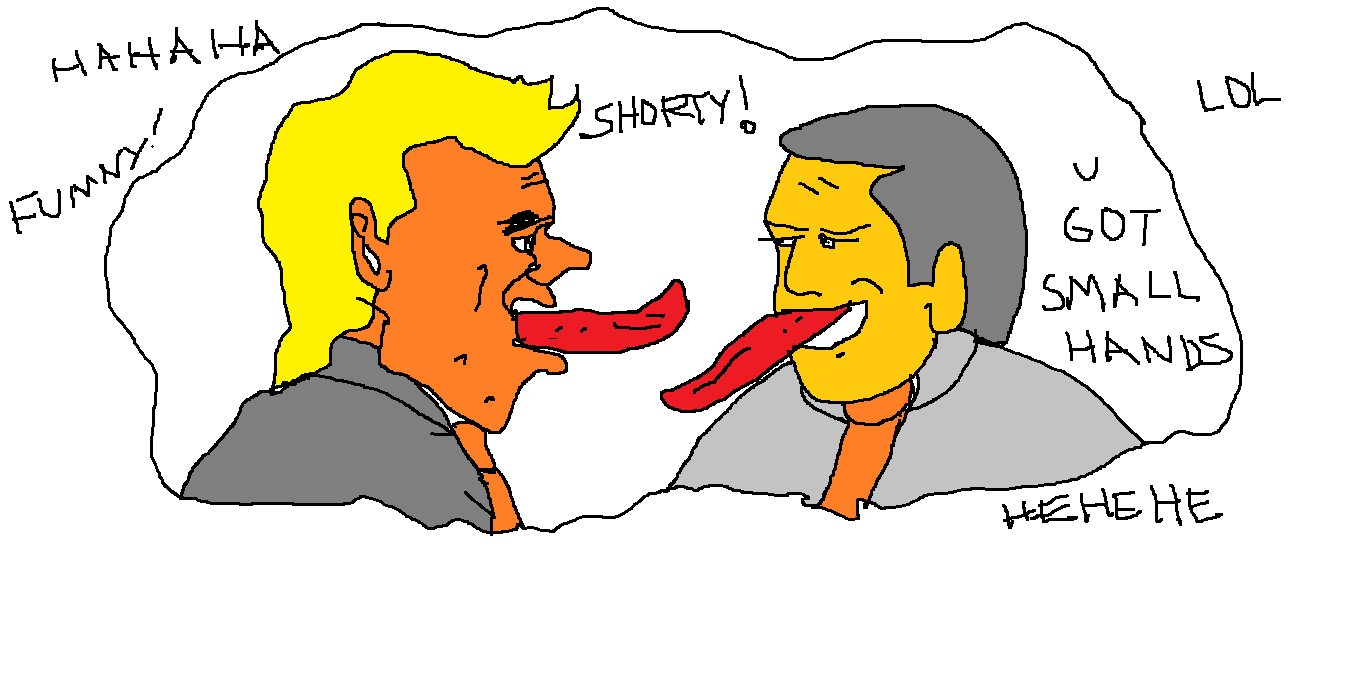 Calgary, Alberta
March 1, 2016 12:44pm CST
Rubio, Cruz, and almost all hardcore members of the GOP establishment are doing every thing to pull down Donald Trump. And what is getting really funny and childish is Rubio hitting Trump from head to foot. Rubio's followers are making fun of Trump's hair, even claiming it's a wig. Lately, Rubio made fun of Donald's orange spray tan. Now he is saying that Donald Trump has small hands. Donald shot back - "Little Rubio said I got small hands!" Whew, what's next by these two crazy candidates?! I cannot wait for them to shout to the world that one of them got tiny dick and the other got small eggs!

I think Marco Rubio and Donald Trump have one thing in common - - both of them got smelly feet!


They are like kids - - even worse!
8 responses

• Roseburg, Oregon
1 Mar 16
They are like a bunch of clowns putting on a show for everyone.

• United States
1 Mar 16
I am rooting for Rubio dont care what he says about that low life Trump.

It is hilarious though.

• United States
24 Sep 16
I don't agree with Rubio on anything politically, not much of anything anyway, but when it comes to this playground spat with Donald I'm definitely on "Little Marco's" side. Maybe he should have just ignored the taunts but a person can just take so many insults. Donald is a disgrace.

• United States
1 Mar 16
It is infantile behavior for sure and it is amazing that Rubio was pulled right into it. Now they both look ridiculous.

• Calgary, Alberta
1 Mar 16
@Corbin5
They remind me of my grandchildren (5 and 7 years old)


• Bunbury, Australia
1 Mar 16
They shouldn't be running each other down. It just demeans them both.