Teaching my son to garden tonight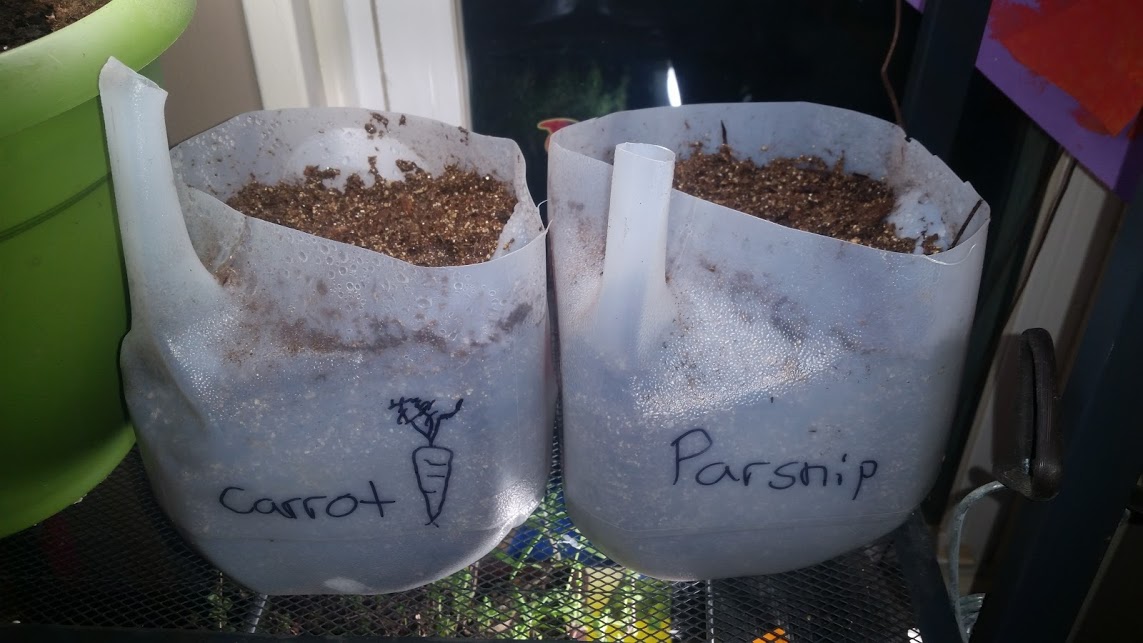 Howell, Michigan
March 2, 2016 6:36pm CST
Tonight I decided my 4 year old son, Noah, and I would do a bit of gardening. It's still cold where i live, in fact we had 7-8 inches of snow fall on us yesterday, but that won't stop us! Tonight we took a couple old gallon milk jugs and used them as a container to grow a few carrots and parsnips in. I read somewhere online that a gallon container should be enough space for 2 or 3 carrots to grow, so i figured "why not" and went for it. We go through milk in this house like you wouldn't believe with 3 little ones, so finding a use for all those cartons is a nice little way to recycle as well. So now we have a few more veggies growing on the rack until it gets warmer outside. Noah seemed to have a great time doing it, even though i did most all of it and just explained as I went. He even said a few new words and responded with an "I do" rather than his go to "yeah" to a few questions. (Noah has brain damage and has a severe speech delay that has recently been getting better due to some new medications) All in all, it was a fun project that we both enjoyed and hopefully i planted a seed in his mind too. There is plenty more gardening to do this summer, Maybe now i have a little helper!
7 responses

•
3 Mar 16
Cool I so you do get a new helper that would be awesome :)


• United States
3 Mar 16
I want to get some dirt and plant in my house too. I wish I had a porch.

• Howell, Michigan
3 Mar 16
You should! It's very addicting though. I went from barely keeping a cactus alive about 5 years ago to having a huge garden and having to learn to container garden because i ran out of space lol. It's a lot of fun to watch your work grow and then eat it!

• United States
3 Mar 16
@bobo2500
I have a big window here on the 12th floor with loads of sunshine coming in It's just that when I tried before I got tons of bugs in my planters.

• Howell, Michigan
3 Mar 16
@sharon6345
ugh! Bugs are the worst. I have been lucky for the most part, but i did get some nasty slugs last year that ate a bunch of my seedlings. Best of luck if you ever try again!


• Malaysia
12 Mar 16
This is such a wonderful project and good lesson for your son. I just started to learn gardening, and always have fun doing it together with my children too. As we are staying in tropical country, so the plants can grow almost all the time. It's really great to cut the veggies we plant in the garden, and cook for our meals. Hope you and your son will enjoy taking care of the veggies!

• Howell, Michigan
13 Mar 16
It really is a great feeling to literally reap what you sow. I have learned to enjoy so many new foods because i grew them myself, I have also learned to cook quite a few new things along the way. I hope my son loves it as much as i do in time. Best of luck with your gardening!

• Malaysia
20 Mar 16
@bobo2500
That's really good. I really need to find a time to re-plan my garden. It has been neglected since last year, as I was not feeling well due to my pregnancy. Besides the plants, I guess the children like to explore the insects that are in the soil or flying around the plants as well.



• Howell, Michigan
20 Mar 16
@kaka135
My son has really enjoyed the process so far. He likes watching the plants grow and hopefully he'll enjoy it more once we're outside doing it. Best of luck if you decide to start a garden this year, and also with the baby!


• United States
3 Mar 16
How big will your garden be? I taught my children to garden when they were a bit older than your little one. Two of my four actually really enjoyed it. Now that they are adults they all enjoy growing their own vegetables.

• Howell, Michigan
3 Mar 16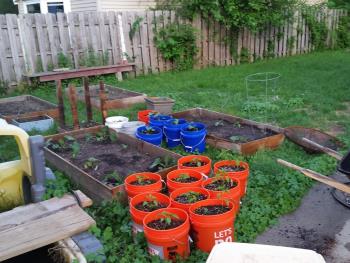 I don't have lot of space where i'm at but i have 6 3'X6' raised beds and a few other "spots" in my back yard. I also use a lot of 5 gallon buckets and containers all around the house. I would love to go bigger, but i've exhausted all of the space i have at this home for now. I plan on building a bed for strawberries and clearing a spot along my driveway for cucumbers and possibly a little bit of ornamental corn. The picture is last years garden and a few of the buckets. I have added two beds between the big ones now.

• United States
4 Mar 16
@bobo2500
you could put up a trellis and let the cukes grow up it. Also pole beans can be grown using string that is attached to the outer wall of a building .

• Howell, Michigan
4 Mar 16
@ElusiveButterfly
I actually planned to make up a trellis for the cucumbers, just need this dang snow to melt so i can get started on it. Thanks for the tips!

• United States
6 Mar 16
Oh, it's fantastic that he had a few new words to say today! I bet helping you with the gardening project is a big help to him in that regard, since so much of that development depends on social interaction with parents and older individuals.

I guess I probably need to start thinking about starting a gardening project with my kids... I keep meaning to do it and put it off. I was going to wait a few weeks and start with some packages of flower seeds I got for their Easter baskets, but it might not hurt to grab some veggie seeds while we're at the store tonight. I'm just totally clueless when the best time to plant things will be.