Budding Wildlife Photographer?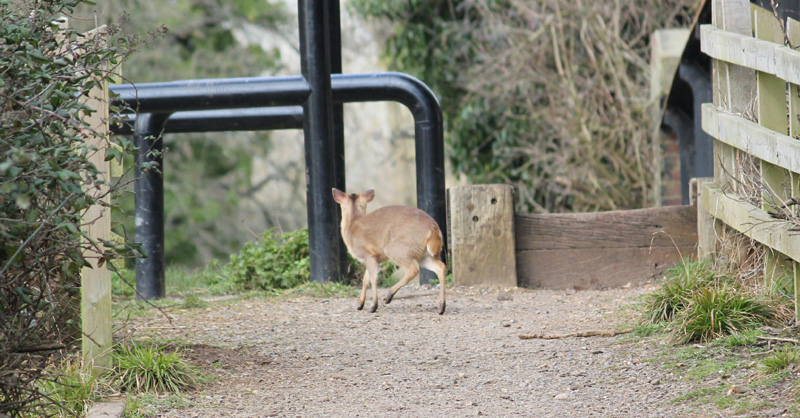 London, England
March 8, 2016 7:05am CST
I always carry a camera when I go for a walk. Mostly I take pictures of static things, but lately I have been seeing a lot more Muntjac deer. These little beasties, about the size of a Labrador dog, are shy and until the other day I never got a shot of one. I spotted this one before he spotted me, but after the first click of the camera, he was off, over the canal bridge. I thought I had a nice shot of him looking back at me, but with the exception of this one, all the other shots were out of focus. Drat! Still, at least I know where to find them so now I need to get better at capturing that image!
9 responses

• Momence, Illinois
8 Mar 16
I have never heard of this type of deer. I do hope you can manage to get another shot of one sometime.

• Momence, Illinois
8 Mar 16

• London, England
8 Mar 16


• Colorado Springs, Colorado
8 Mar 16
We have a herd come and graze the bush's right outside our window. They are used to people, so we can get fairly close without scaring them.


• Cambridge, England
8 Mar 16
I have yet to see a muntjac, though they were very common in the village I used to live in. I have seen red deer and roe deer near the house but never a muntjac! A friend of mine (who lives in a fairly built-up area but, nevertheless, a village has recently seen another small deer which is also becoming fairly common - the Chinese Water Deer. This is also about the size of a largish dog but its distinguishing feature is its 'fangs' or tusks which grow downwards from the top jaw.


• Bunbury, Australia
8 Mar 16
I've read about the muntjac deer in England. He is certainly small. Are they considered a pest in your area?

• United States
8 Mar 16
Where was this taken Ron? I never knew those animals were in London?

• United States
8 Mar 16
@Ronrybs
Amazing to find them there Ron. You got a great shot of him.


• London, England
8 Mar 16


• El Paso, Texas
8 Mar 16
Nice shot all things considered, the hardest subjects to photograph are children, pets and wildlife. The former two always ruin that wonderful pose you want to capture, kids smile or act silly when they see a camera pointing at them and pets change that cute pose you'd just seen. As for wildlife, be glad you even got the unfocused ones, when I've tried to capture that lizard I usually just get a shot of the space he'd been in a second before I snapped the shot.

• El Paso, Texas
8 Mar 16
Me too
@Ronrybs
but I never give up. Have you tried using a tripod and a zoom lens? A friend of mine does that and gets fair shots of birds but then she doesn't have dogs that would topple the dillybob.