Why I do the pay to click sites

Kingston, New York
April 5, 2016 7:14pm CST
A lot of people say it does not pay to do The sites because they only pay a penny or less. Here my main reason it one of the solution to a problem I am having. I now have my food cart. But the next problem getting money for food and permit. So this is one solution not a great one .like the old saying is there a solution for every problem even if f you do not like it.
2 responses

• United States
6 Apr 16
The time you spend on those site could gain you more if you put it into mylot.

• United States
7 Apr 16
@eagletrek2
Keep your fingers moving here and you will see it happen for you.

• United States
6 Apr 16
Good job with getting your food cart! I think I saw a discussion of yours a while back where this was still a goal in the distance. Im so glad youve reached your goal or part of your goal. Keep up whatever you have been doing. Have you looked into any other online earning sites?

• Kingston, New York
7 Apr 16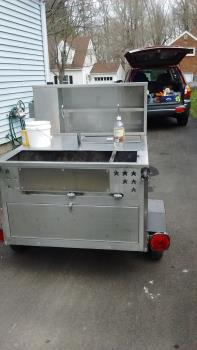 here a photo of my food cart cleaning it to get ready for inspection