The New Age of Antichrist

United States
April 11, 2016 10:01am CST
Does anyone else see/notice that occult symbols are everywhere these days? Do you realize what it all means? Do you realize The Bible predicted this and also tells us what is yet to come? Things are about to get a lot worse, are you ready? Are you willing to die before you take the Mark of The Beast?

Exposed - How the mainstream media are subliminally promoting Saturn cubes, ISIS/OSIRIS, the Islamic antichrist, Kronos and end of time.
5 responses

• Jacksonville, Florida
11 Apr 16
It is a scary truth and I need to get closer to the Lord through his Word, I am working on that every day. Some days my faith is stronger than others.

• United States
11 Apr 16
My faith is strong. But the things I see are very shocking. I can't even watch the news or many movies. I've been working toward teaching my grandchildren so they'll have the Full Armor of God, I'm afraid they're really going to need it.

• Jacksonville, Florida
11 Apr 16
@PrarieStyle
That's really good. My children are also being taught by my husband and I plus they go to church, Sunday School and Awana. I pray every day for faith like theirs, the faith of a child.

• United States
11 Apr 16
@LovingMyBabies
Please pray about "church" and "Sunday" school. I believe church on Sunday is pagan. God rested on the 7th day, not the 6th. Catholics changed it to "Sun"day. One of the 10 commandments is to "Keep the Sabbath". We don't go to church at all anymore. It's nothing but pagan rituals that we're not supposed to be celebrating. Here's a video that might shock you as well as help you understand what I'm talking about.

From: http://jim-staley.podomatic.com/ "This is BY FAR one of THE MOST POPULAR videos on the internet detailing the historical accounts and biblical commenta...

• Pune, India
11 Apr 16
The end of the world is near. The world will not last as long as it has lasted. Even by Biblical times.

• United States
11 Apr 16
I don't believe the world is going to end, I believe the Messiah is going to return.

• Pune, India
12 Apr 16
@PrarieStyle
Yes the saviour will come and the end of the world will also come. No doubt about it.

• United States
11 Apr 16
We definitely need to live each day as though it could be our last and do our best to please God.

• United States
12 Apr 16
Yes we do. And we need to study His Word, because it is our weapon.


• United States
11 Apr 16
I'm afraid for my grandchildren. I don't believe the world is going to end, but I believe the Messiah will return soon.

• Oklahoma City, Oklahoma
14 Jun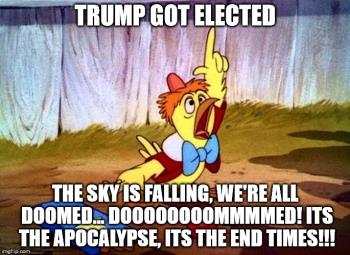 "Uh-oh, Cletus! Trouble in the hen-house!"

There have
always been
"signs that 'the end is nigh!'"---the Christian churches have been 'in a panic over it' since before they were even
called
"Christian!" I haven't gone to see the video yet, and probably won't. Was any part of "The Greatest Commandment" 'Be Afraid, Be Very Afraid!'?

Nope. Along with The Greatest Commandment (Love thy neighbor as yourself), Jesus said, "Be not troubled!" https://sermons.faithlife.com/sermons/108252-debunking-end-time-conspiracy-and-mystery-mongers