Darryl and his brother Darryl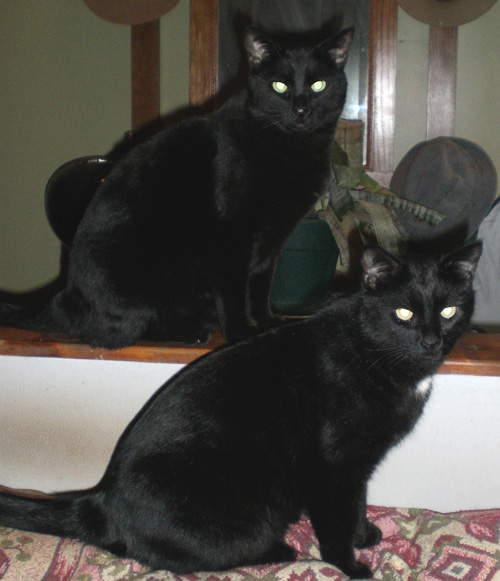 Nevada City, California
May 4, 2016 10:50am CST
These are my two cool cats, Darryl and Darryl. They are brothers, and we gave them both the same name because it was so hard to tell them apart from a distance. No matter which cat we are calling, we've got the name right. Their names are a reference to characters on the old TV show Newhart. Each time they appeared their brother, Larry, would introduce them by saying "Hi, I'm Larry; this is my brother Darryl, and this is my other brother Darryl." When I got them, it was mostly for rodent control. Rats were going in the garage and chewing the wiring in our cars at night. I had four dogs, so I needed cats that could deal with that. The lady at the local cat rescue helped me pick out these guys, and they have worked out great. They get along fine with the dogs, and they got rid of the rats. They have also become members of the family. They look like bookends, but they have very different personalities. One of them likes to keep to himself, and he spends a lot of time outside. He is quite a hunter, and will often follow along if I take the dogs for a walk. He's the one with the white spot on his chest. My husband started calling him Pretty Darryl, not so much because of the white, but he is a bit heavier and his coat always looks thick and shiny. The other one loves attention, and loves my dog Heidi. He follows her around and rubs up against her. He also comes into the kitchen meowing for food and attacks my feet when I'm walking. He gets under the sheet when I am trying to make the beds. He wants to get in bed with me and tries to knock my book or my laptop out of my hands. He is affectionately known as Pain in the Ass Darryl. We love both of our Darryls. Do you have cats?
9 responses

• United States
4 May 16
Nice looking cats! I loved the Bob Newhart show and I remember Larry, Daryl and Daryl. I do have a cat, Mildred, who also writes for myLot. She sends high fives to the Daryls!

•
4 May 16
Such pretty kitties! I love black cats, and still miss my old writing partner, Guiness the Cat.

• Fairfield, Texas
4 May 16
The only difference between the 2 is the white dot on the ones chest
@norcal
. You know me, I have 16 of them.

• Fairfield, Texas
4 May 16
@norcal
They are all indoor cats only. I do also have 2 outdoor only cats. I need to quit rescuing critters.

• Nevada City, California
4 May 16
@nanette64
Wow, cat box duty must be quite a chore.



• Denver, Colorado
4 May 16
Yes, Stoner, Booger, Junior, and Firstie.

• Los Angeles, California
4 May 16
Awesome black kitties! I do see a white tuft on one and not the other.


• El Paso, Texas
4 May 16
They are gorgeous and remind me of Stanley, he was all black too.

• Bunbury, Australia
14 May 16
What a clever idea. Some people used to think my pet sheep all looked alike but they didn't really. Maybe I should have just used the one name for all of them.