Tell me about the sweetest memories you have of pets.

Canada
November 24, 2006 9:43pm CST
One of the best pets I ever had was my bassett hound Morgan. She was a small built bassett and she wasn't as wrinkly as some bassetts are. She had the most beautiful face which had only the slightest hint of the typical sad bassett hound expression. Morgan was a happy, loving animal. She loved to play tug of war and fetch. She loved walks better than anything. One of her favorite naughty things to do was go under the dining table and steal the napkins off our laps then go off somewhere and leave shredded paper behind. Up the road from us was a wrinkly male bassett named Floyd. There was a huge mutt named Hawthorne. He was a tall and very fluffy dog, probably partly chow and maybe shepherd or something....but big. Morgan was kept in a pen of chicken wire in our back yard. It was a big yard with lots of place to run around. One day Floyd and Hawthorne ran away from their homes. They came to visit Morgan. Hawthorne got up on two legs and squashed a section of the fence. He and Floyd went in and talked Morgan into running away with them. After they found out they could do that, they did it a few times. It was too funny to make anyone upset.
8 responses

• United States
30 Nov 06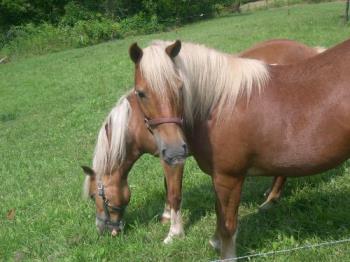 I don't really have an endearing memories, but my children sure will! These are the ponies that my father in law gets from a friend for our kids to ride when we stay at his farm (it's no longer a working farm). It's neat to see the ponies out the window in the mornings, the kids wake up and raise up the window to the cabin and pet the ponies right through the window! We stay there over a long weekend and the ponies will be there for us to take care of and ride as if they were our own. What awesome memories for my children! Thank you Grandpa!

• United States
1 Dec 06
Each time when we leave and say our goodbye's I thank him for giving my children such great memories and he'll get all worked up and teary eyed! He's so cute! He says, "well that what I'm doing this for". He doesn't have any good memories of his childhood as he grew up in an orphanage, so that's why it's so important to give his grandchildren such fond memories. He's a sweet sweet man.

• Canada
28 Nov 06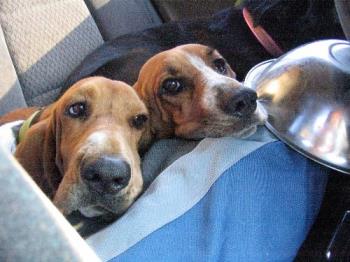 Every day that pasts is a great memory with my pets! I guess the most memorable was the day we took our girls on their first camping trip. Both had no clue what to do first. They were like little children, running around, wanting to swim, chasing bugs, playing in the tent etc...

• United States
9 Apr 07
One of the best pets I had was also a bassett hound, named Sassy. She was great, she loved the snow, and she would alert us when there was a scorpion around. To our knowledge she was never stung by one, but she would stand a foot away and bark at it. One of her funny quirks was she hated anything that smelled, lotion, fingernail polish, anything, and would snarl up her lips at it. She used to play 'Houdini', one day I couldn't find her anywhere, drove all over looking for her. My kids school called and told me she was up there (only lived a block away) in the computer room! When I walked up to the door of the classroom, she was wagging her tail and running from one person to another getting attention. As soon as she saw me standing there, she stopped wagging her tail, those long ears drooped even more and she just sat down! She looked so pathetic I couldn't scold her!

• India
8 Dec 06
my dogy just eat his mealin his bowl only. whatever he is dying for hunger but he will wait for his bowl full.


• Canada
28 Nov 06
My parents had a cat when I was little named Buffy. She was a calico and already about 11 years old when I was born. When I got older, around 3, she used to sleep on the pillow above my head to protect me. There's countless pictures of her sitting beside me while I played, and even chilling out in my baby swing. We had to get her put down when she was 21 because she developed cancer or something of the sort, but up until then she had no health problems at all. Truly amazing.

• Canada
30 Nov 06
Thanks for your answer. What a nice story. When I was a baby, my parents had a small poodle. Apparently I could never finish an arrowroot cookie. The dog would come and take them away from me. He was really neurotic apparently, my parents left a tape recorder running the whole time they were out shopping. The entire tape was the poodle howling from beginning to end. Interesting contrast to the protectiveness of your cat.


•
30 Nov 06
in pakistan lods lods lods of