I Love Estate Sales!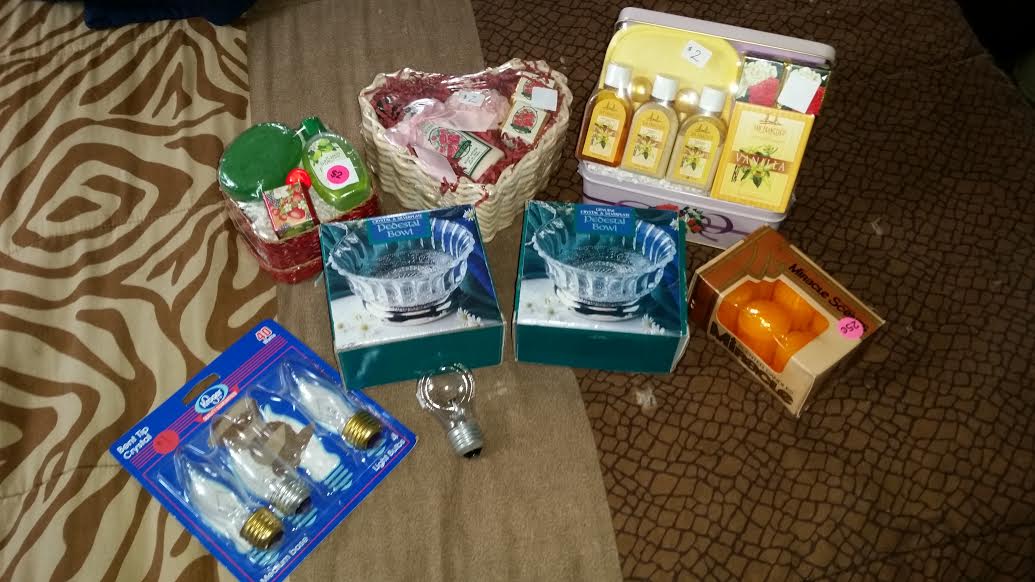 United States
May 21, 2016 1:28pm CST
I've been seeing a sign for an estate sale. I love going to them! Finally today while out I told my mom I was going to it. What I didn't even think about is that it was the 3rd and final day of the sale, and in the last hour too. I first took up the one set of bath items in the tin and the .25 box of candles. She told me $1. When I looked at her funny she told me everything was half price, and she wasn't charging me for the candles. Oh my! I only had $4 in my pocket to spend but I went back to find more. I spent that $4 on everything you see in the picture (minus the one bulb missing from the package as I've already put it in the burned out spot in the living room ceiling fan) Oh how I wish I would have had more money!! I could have, and would have, bought so much more. I am happy with what I did get, and you can probably guess that those bath sets and the 2 bowls I will use as gifts. Do you love shopping estate sales too? It's yard sale season so I need to figure out how to keep some money in my wallet all the time in case I run across things I can't pass up.
9 responses

• Rochester, New York
21 May 16
I love estate sales as well but tend to stay away as I can really go broke there!

• United States
21 May 16
You got some wonderful deals! I do love estate sales, but we have so many resale shops around here with such good deals that I frequent them now instead of yard and estate sales. I do like the one-stop shopping aspect of resale shops. I like the win/win too. Donating to charity and getting a great deal cannot be beat.

• United States
21 May 16
There was an estate sale on the outskirts of town this morning. I so wanted to pick up my sister and check it out. Car problems caused me to not go. I am looking forward to tag sales and yard sales. One can find some really good things if you keep your eye open. And don't be afraid to dicker. If I find something I feel is overpriced I will go lower. The worse they can say is no.

• Wausau, Wisconsin
25 May 16

• United States
23 May 16
I know you used to collect and sell cans for some pocket cash. I have a hard time keeping any cash as I always spend it on something we "need". I did go to the thrift shop in the next town over, and am seriously pondering some fabric to make into my backgrounds for my Dresden Plate blocks my grandmother started.

• Green Bay, Wisconsin
22 May 16
I don't shop yard sales very often. They always seem to be when my wallet is empty. I'm glad you were able to find some nice items.

• Boise, Idaho
22 May 16
The last estate sale I went to I found a lovely mirror with a wooden frame for $10.

• United States
21 May 16
All for only $4? You got yourself some good deals! I try to avoid estate sales as much as possible because I end up emptying out my wallet. Such good deals and so addicting, too.

• Roseburg, Oregon
28 Aug 16
You got some really good deals at that estate sale. The last one we went to I got some good deals to.