MyTiny House Obsession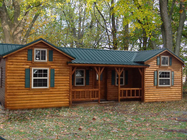 Acworth, Georgia
June 9, 2016 10:07pm CST
I have recently become completely immersed in the world of tiny houses. From watching every HGTV tiny house show, to researching exactly what it would cost to have every single thing I want in a self sufficient, off the grid tiny house. With my family size, I can't do too tiny, but I'm pretty sure I can work with 600 sq. ft. I've look into prefab vs. built to suit. This prefab cabin is what I have set my heart on. The price is beyond reasonable.
10 responses

• United States
10 Jun 16
I love those tiny houses also. But I live in NYC so there is no place to have one here. Obviously. I love the aspect of being off the grid. I hate my electric company for sure. They are way too greedy when it comes to running my electronic gadgets.

• Acworth, Georgia
15 Jun 16
There is a place for them in NYC, the property there is just pricier so in most cases, it wouldn't yield the same benefits as buying land in rural NY. For instance, this lot for sale here costs just $39,000. Now if you purchase this lot, and spent $50,000 or less either building or purchasing your tiny house, you would be able to own a home in NYC for under 100,000. IN NYC! How amazing is that? Not to mention, if it was an off grid build, do you have any idea how much money you would be saving? I can only imagine the resale value.

70 A Holland Ave, Staten Island, NY 10303 a single family home is Sq. Ft., beds, and baths. Visit photos on realtor.com(R), listing value of $39,000.

• United States
18 Jun 16
@KyaCooper
That is Staten Island. Okay, I get that. And that is awesome. But I am in Brooklyn. And here, well, this is becoming another Manhattan.


• Acworth, Georgia
15 Jun 16
So many people either die or grow old paying a mortgage off. Why? Because we've been made to want big extravagant homes. Homes that come with ridiculous taxes and climbing utility bills. Homes we spend thousands furnishing and , lord forbid you fall on hard times and miss a few payments, can be taken from you while your left with nothing to show for it even if you've been paying on it for years! Who really needs that? Who decided as a child that they wanted to work 12-18 hour days just to pay for where they live? I know I didn't. I'd rather be out spending my money traveling. Going places and experiencing things, making memories and being able to grow old and say I LIVED as opposed to I got by. It's really something to think about.

• Davao, Philippines
16 Jun 16
@KyaCooper
You really have a better view about this and I agree with you. If I were to pick a house it would be something like that above. I like to see where my things are so that I can easily look for them right away. If you have a bigger house there's a tendency that you will look for your things 24 hours and it's frustrating. I remember renting a room somewhere and I chose the small one that only me can stay. I like the idea because I can see my things. Its very convenient for me. And yes, mortgage sucks sometimes. You can spend thousands or millions for your house and payable for 10 yrs or so. It's another stressful thing to think about.




• Acworth, Georgia
15 Jun 16
I couldn't either. Not in anything less than 600 square ft considering the fact that I have 4 children. However, Amish cabins have some VERY reasonable prefab cabins that fit my needs exactly. Even 600 sq ft is much less than the 1200 s. ft. I currently live in.

• Redlands, California
10 Jun 16
I love the concept also, but seems the government hates the idea.Although Washington DC did just pass a law saying it was OK to build them in city limits. Most other places not so much. Many people also because it does not fit their lifestyle and so they try to ruin it for the people who do like it. The other problem is it cannot get to popular or corporate America will take over and jack up the prices from what I have seen. That being said, There was a really cool one architects came up with for refugees and I say we use them for many things other than that.
Minnesota-based Architects for Society has developed a prototype for a rapidly deployable dwelling that could house victims of catastrophic events.

• Acworth, Georgia
15 Jun 16
It's not just about the houses themselves, but its about a complete lifestyle change that, if it continues to catch on, could mean a major shift from the expensive, extravagant, "keeping up with the Joneses" life we've been living. That means a lot of change in corporate America. Of course they're nervous. However, how much more could you get out and enjoy life if you had no rent/mortgage, no utility bills, and now with the new modification kit that can change your gasoline powered vehicle into a water powered vehicle, no paying for gas. You wouldn't have to work so hard. You'd spend more time getting out and actually enjoying your life as opposed to working like a pack mule.It's a lifestyle I am actively working toward as we speak.

• United States
10 Jun 16
I am fascinated by the tiny house movement. The innovations they put in those houses on the shows are amazing. I've written discussions about it here, and I see the pros and the cons of it. I live in a
small
house (about 850 square feet), but I don't know if I could do
tiny.
I am single, however, so I don't have to worry about other people. BTW,
welcome
to myLot!


• Acworth, Georgia
10 Jun 16
Thank you very much. I'll have to check out your posts. For me, after having thoroughly researched, believe that this is definitely the way to go for me. Living off grid has always appealed to me.


• Acworth, Georgia
15 Jun 16
I found several. Most people aren't informed enough about this movement to know just how much it could change your life. I can't wait to make the change.