I Have Returned... With Mixed Reviews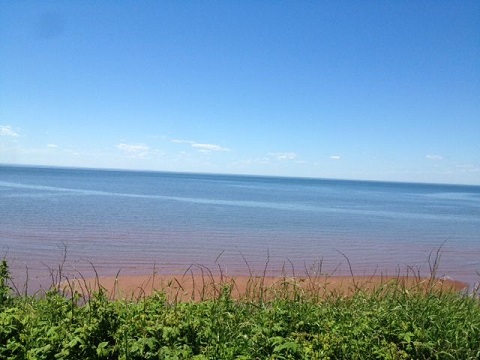 Orangeville, Ontario
July 6, 2016 9:09pm CST
So my husband and I flew out to New Brunswick on Thursday, stayed at his sister's overnight, then drove to Prince Edward Island with them the next day, Canada Day. We went to my brother-in-law's cottage where they were letting us stay. The day was beautiful, really beautiful. The picture is above. We couldn't stay and enjoy the day because my husband was scheduled to dance at the Canada Day celebrations. We played cards with a good bunch of family members that night and had a great time. My daughter and her boyfriend arrived that night. Saturday was the wedding, which was beautiful, but hubby was out of control at the reception. I never said a word to him about his drinking all weekend but he was crazy crazy on the dance floor. In 23 years I have never seen him act so crazy. I danced with him earlier in the evening but as the night went on I really wanted nothing to do with him and felt really lost and hopeless having to deal with him like this. I bit my tongue. The weather had turned to windy and rainy and chilly on Saturday and Sunday but grew warm on Monday. My daughter and I didn't have to leave until late in the day so we spent a couple of hours on the beach where I got sunburn pretty bad because I didn't take any sunscreen with me. I had decided, and think I even said to my husband, that this trip would determine whether I would ever return there again. I enjoyed time with his family - but not with him. From the time we landed in New Brunswick I could smell alcohol (we weren't sitting together on the plane) and he said he had 2 glasses of wine. That costs $6 per tiny glass! It didn't stop after that, but I said nothing. He did pretty well, though, except for that damn wedding. My daughter was pretty fed up with him too. He is staying there until this next Sunday or Monday. With most people working during the week, he will be pretty well behaved I'm sure. I have talked to him a couple of times. But I have my bed alone and am trying to get back the sleep I lost while away but my body is hurting. I'm so conflicted right now.
4 responses


• Orangeville, Ontario
7 Jul 16
I've always told him he becomes a different person down there. That's why I only go when there is a big event that I feel I must or want to attend. And then I only stay for a couple of days and let him stay longer so he can do his own thing. I am waiting for him to hit freaking rock bottom. If he thinks I'm going to retire down there he is sadly mistaken.

• United States
7 Jul 16
That's some serious stuff you've got to consider.

• United States
7 Jul 16
Obviously he has a problem. I think the picture is lovely. I am sure most people know you have no control over him.

• Bunbury, Australia
7 Jul 16
It's a shame the weekend was a bit of a disappointment. Don't know what else to say really.