One Last Bang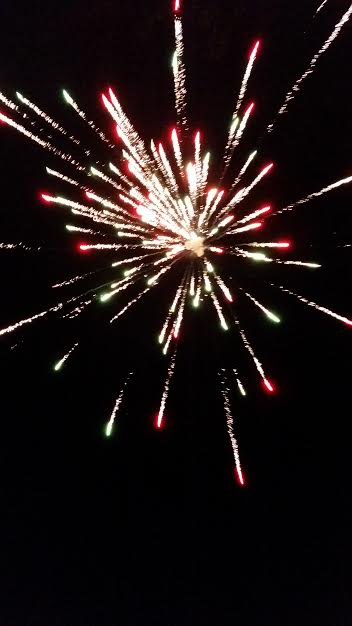 United States
July 24, 2016 4:41pm CST
My title doesn't have anything to do with my post other than using another of my fireworks photos that I thought was worthy of sharing. It's Sunday. Sunday's always seem to be more laid back and relaxed. After church I always take a nap. 99% of the time I set my alarm for an hour and end up in there for almost 2 hours. We had a taco lunch at church afterwards today. That sure was really good. Hubby is napping now and I'm watching movies on the Hallmark Channel. No idea what we will have for supper. It's just us and my mom at the house today so I imagine we will all just find something on our own. It's weighing heavy on my mind that I really need to, and would rather be working on sewing and crafts some hours of the day over sitting in front of this laptop and other devices. I'm sure a lot of the feeling comes from the fact that my last 4 posts have been related to my sewing room and my projects. A lot of it comes from finding myself getting bored sitting here and clicking and clicking. I used to work on things while I clicked, but since I'm now also working on 2 tablets my hands are always busy between everything. I guess I better stop rambling and get to some more notifications here...and then get on to that clicking. I hope you are having a pleasant Sunday.
8 responses

• Banks, Oregon
24 Jul 16
Sounds like a good day, mine has been pretty good too, just chilling watching Bridesmaids now.

• United States
25 Jul 16
It was so nice to not have any grandchildren here and actually get to watch several of the movies I've recorded.

• Garden Grove, California
24 Jul 16
Im having a great Sunday now but I felt a bit ill for sometime guess the heat gets to me but we we have AC so our room is cool.

• United States
25 Jul 16
It's cooler here today, and I mean way cooler.

• United States
24 Jul 16
I have told myself I need to block out time for sewing and creating. I do not do things that would allow me many options for sewing and working. I try to get up when hubby does and work on my computer goals until about six. Then make him a smoothie for breakfast. Then dress and go to the garden. In the afternoon I suppose I could figure something out in the way of sewing or housekeeping.

• United States
25 Jul 16
I used to have nice established routines, but it's been a long time now since I can count on being able to do things at certain times.

• Green Bay, Wisconsin
25 Jul 16
It's been a good Sunday here too. I also had my Sunday after church nap. I did make my SB goal early so that made me happy.

• United States
25 Jul 16
With the quilt retreat coming up Friday, Saturday and Sunday I know I won't make my SB goal Friday and Saturday for sure. Sad that I won't make the 300 extra bonus but at least I know I have the 200 extra bonus.

• Green Bay, Wisconsin
26 Jul 16
@marsha32
I've never gotten that kind of extra bonus, but this month will be better than usual for me.

• United States
26 Jul 16
@just4him
I strive for it as that is how I can cash in for $50 each month. Of course I run all 6 apps throughout the day between 2 phones and that is at least 60 of my sb each day.


• Australia
26 Jul 16
Since my hubby retired, most days feel like Sundays ..


• United States
26 Jul 16
I don't want to think about that--hubby retiring and being home all day.

• Australia
29 Jul 16
@marsha32
it's would be a big adjustment on both of you when your husband retires ..That's what we found out ..

• United States
29 Jul 16
@epiffanie
He better find a hobby when that time comes--or I will have him cutting and pressing my fabrics LOL


• Calgary, Alberta
25 Jul 16
O, just my wife and me, too, coz our son is out of town. For supper just KFC.


• United States
26 Jul 16
One night hubby brought home KFC, but there was 10 of us here then. I about fell out of my chair when I looked at his bank statement and seen how much he paid.

• Calgary, Alberta
26 Jul 16
@marsha32
hahaha! Maybe he also gave a tip to the KFC cashier . . .