Anyone Here Successful with Container Gardening?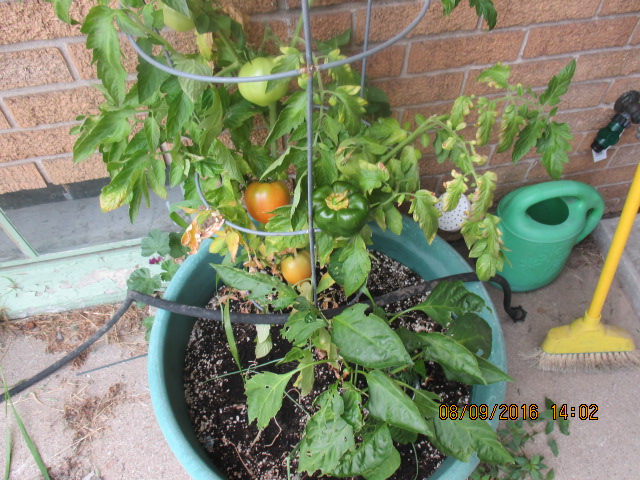 Midland, Michigan
August 10, 2016 3:57pm CST
In the picture is my one lonely tomato plant that doesn't look too healthy. I'm not sure whether it's not getting enough water or maybe a bit too much at the wrong times perhaps? A few of the tomatoes are finally turning red, so it can't be all that bad. Years ago, when we bought the large pot, I planted several tomato plants each year. The first two years the yield was great, but after that things went down hill. I would get black bottomed tomatoes which I discovered was from a lack of calcium in the dirt. After that I'd try some of the suggestions before planting the new plants, but none of the ideas ever worked. It's been about three years since I've planted anything and this time around I heard that I'm supposed to buy plants made for container gardens which I'd never heard before. I saw some of these types of plants at Kmart and bought one tomato and one green pepper plant. The tomato plant looks like it will only have five or so tomatoes on it and the green pepper only had one which already fell off and I have sitting on the wire of the tomato cage here. I decided to use a bit of fertilizer and see if that helps matters out, but I'm not sure whether it's worth trying again next year. I've tried to keep on top of watering it more this year than I ever have before, but with the dry summer it may just be a lost cause. Any ideas or suggestions for future years for me?
10 responses

• United States
11 Aug 16
some plants do better'n others when grown'n a pot. i started container gardenin' when the drought hit these parts to conserve water. still do't. 's fer those maters? dissolve some epsom salts'n warm water 'n feed 'em e'ery week. fer the calcium, ya can grind 'p egg shells 'n mix 'em 'n the dirt. 's they decompose, they'll help. the containters i use 're double - the outter one 'tis where the water goes, a pvc pipe with holes allows the actual pot with the plant to draw 'p what 'tis needed.

• Midland, Michigan
11 Aug 16
I'll have to get more info on how to do this before planting them again next year. I have used Epsom salt before, and I've done the egg shells in the soil, but neither of those worked for me. Anything I planted before this year, though, wasn't called container plants. Do you stick to those types of plants or are you able to make any of them grow in your containers?

• United States
11 Aug 16
@MarshaMusselman
the only one i'd diff'culties with 'twas blueberries - those ya need to find varieties that're labeled to do well'n planters. otherwise, i grow most all other schtuff'n containers. e'en yellow squash :)

• Winston Salem, North Carolina
11 Aug 16
I've done a bit of container gardening, but find that it requires a lot of effort to stay on top of keeping the soil fertilized and the plants watered, but not watered too much. I'd much rather just grow things directly in the ground.

• Midland, Michigan
11 Aug 16
I might rather grow directly in the ground, but it's difficult for us to get close enough to do the planting and working with the plants themselves. Plus we've not delegated any of our land for that type of gardening. Years ago, we had some railroad style boards that we used to build up a small area to grow a few veggies in. We made the mistake of fertilizing it too much and the result was extra large vegetation but no fruit whatsoever. With the hotter than normal summer we've had without the normal amount of rain that's probably the main reason things aren't growing as well as they would otherwise be. I also read after I already planted the two plants, that I should have drilled a hole in the bottom of the pot and possibly put inside some things to lift the plants up and allow air in their a bit. A suggestion was made to put old pots upside down in the center and then put the dirt into the main pot. I think that would allow any extra water to be diverted away from the main plantings.

• India
14 Aug 16
i was wondering about that green pepper, hee hee. I suppose every year the soil has to be changed and small rocks put at the bottom so that there is air...I don't do any gardening now


• Midland, Michigan
14 Aug 16
Someone that I was chatting with, and I don't remember if it was someone on mylot or at one of my jobs, but they said they used to use two pots of different sizes and put one inside the other. They also had a pvc pipe running between the smaller pot and the larger one. They put the water in the larger pot and the plant drew the water that was needed when thirsty. I'm not sure that I'll go to that much work, but I could try the rocks in the bottom or drill a hole in the pot or something like that. I also may try this again with three container plants rather than just the one. I just brought in one tomato, so they're finally making a bit of progress.

• India
14 Aug 16
@MarshaMusselman
you need to drill a hole in the bottom, then I put small rocks, then a layer of dried leaves, straws etc, then the soil.It shouldn't be packed tight.

• Green Bay, Wisconsin
12 Aug 16
Have you tried Miracle Gro? It seems to work wonders when I use it.

• Midland, Michigan
13 Aug 16
I did put a little into my water last week while watering. We used fertilizer in the past before any fruit began growing and used too much, so I've not used fertilizer much since then. If I begin to get more tomatoes than are currently growing, then I'll know the miracle gro is helping.

• Green Bay, Wisconsin
16 Aug 16

• United States
11 Aug 16
Sorry, I really don't have a green thumb.

• Midland, Michigan
12 Aug 16
Or your green thumb got lost in your son's bathroom perhaps? Just kidding. I wouldn't say that I have a true green thumb, but it's close. My mom could just about make anything grow whereas I need to work at it to get anything growing nicely. And then if the weather is awful, like the hot summer without much rain this year, then it's even harder to predict.


• Midland, Michigan
11 Aug 16
I've always had difficulty keeping it evenly moist since I work the two jobs. In fact, I'd not thought about this until now, but possibly the first few years when our yield was better it may have been before I had to take over running our business. I've done better this year with keeping it watered, and I've been using a watering can when I don't have time to use the hose. I think a lot of it is just the extreme heat waves we've had this year.

• United States
11 Aug 16
Never done that before. But maybe more water or sun.

• Canada
10 Aug 16
We have successfully grown a couple of things in containers. Roughly translated, we are far from experts on the subject. Calling what we've managed a container garden is also being far too generous.

• Saint Vincent And The Grenadines
10 Aug 16
Mom used to use every available empty container in the house- milk cans, large plastic catsup bottles, old pails and dippers, etc. She grows flowers though and not tomatoes and peppers.

• United States
10 Aug 16
I have never tried container gardening with veggies, but I bet someone here will have advice that will work. Then, I will come back and read the responses so next year, I can give it a try too. Maybe we both will have fabulous veggies next season.