"COMMUJNITY LIVING OF AGED PEOPLE"Is it not a good idea..?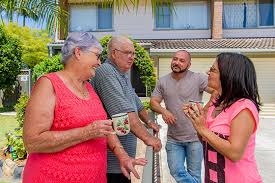 Hyderabad, India
August 20, 2016 6:42am CST
People are becoming jealous. The earn and bring up their children and the children will leave them alone , though not willingly, due to circumstances viz, on account of the job, camps, work, etc., But, when the children go abroad then arises an actual problem. The parents will remain alone at home. If they maintain good relations, some time or the other somebody will come and inquire about them. Even then, they need the company of equals which gives them some satisfaction. They will be such people in almost all families. The best idea is to allow these people stay in a common gated community houses. They will have good company. They can share their opinions and views, they can share their good and bad movements with each other. The children also will be quite relaxed as the parents are enjoying and living in a good and comfortable atmosphere. They only have to concentrate only on sending the money which they can do easily. Once in a year or two they can visit not only their parents but also inquire about the parents of other children and pass on the messages. A good and strong relationship and circle can be build up by adopting such COMMUNITY LIVING OF THE AGED PEOPLE. What is your opinion?
2 responses

• Garden Grove, California
16 Sep 16
yh opinion is to ask us what we want not our adult kids' we want to live normally among a mixed age group not just 'old' people who wants to sit around sharing horrid hospital stays and operations with others. I mylot here and here in this retirement center there are a mixture of ages which is much more normal ask us aged people what we really want,.

• United States
20 Aug 16
It is a great idea. In the USA we have senior living facilities where the elderly can live and be cared for if the need arises. It is nice to make friends at these communities. My dad lived in a senior living facility for a long time and was very happy there.