Here it is,my new watch!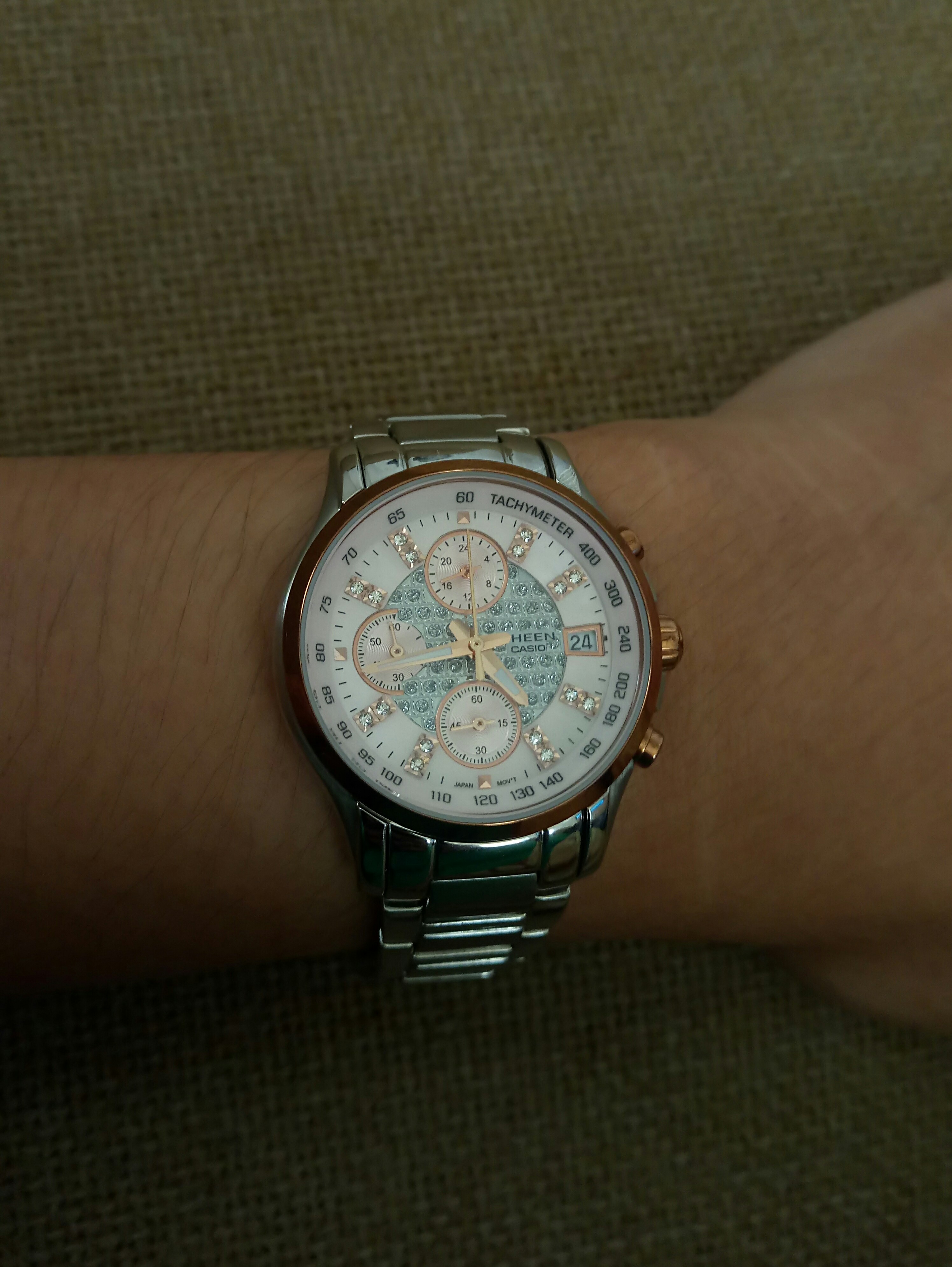 August 24, 2016 9:13am CST
Here's my new watch! I could not sleep last night because my mind was preoccupied thinking of which among the three watches i posted in my recent article that I should buy. (http://www.mylot.com/post/2967151/help-me-choose) Girls will be girls! This morningp i headed to the nearest mall that has Time Depot boutique to purchase the Casio Sheen. But lo! I saw this classic elegantly designed (at least for me) two toned Chrono Casio Sheen with Swarovski elements.I purchased it instead of the one that i originally wanted to buy.At a marked down price of 7795 php from 11995php, it was a good catch,eh? What i really liked about it is its size that will never run out of style.This one is just right for my tiny wrist. Opposite to the oversized and bulky boyfriend watch which is the trend these days.
9 responses

• Canada
24 Aug 16
I love it. It is very elegant looking!

• Philippines
24 Aug 16
it's pretty. does the tachymeter for heartbeat?

•
24 Aug 16
Nope.it is used to measure speed or distance

• Canada
29 Aug 16
Very nice! May it help you to get everywhere on time!


•
30 Aug 16
Thanks! A saleslady from a mall noticed it yesterday and asked what the brand of watch it is. She was surprised that it is Casio

• Canada
1 Sep 16
@Iam_jauntyjen
For many years I have been buying the same Casio watch.

•
1 Sep 16
@1hopefulman
same casio watch? What type of Casio watch? Edifice,G-shock,Vintage,databank?


• Philippines
27 Aug 16
It's nice and obviously you are very fond of watches. I am more fond of necklaces.

•
27 Aug 16
I used to like necklaces but after one of my necklaces got snatched, i stopped wearing and buying necklace anymore.

• Philippines
28 Aug 16
@Iam_jauntyjen
I once had been tried to be snatched of my necklace but thank God, the snatcher failed to get it because the lock was broken and he was able to take just the lock.


• United States
24 Aug 16
Lovely watch! I like the swarovski detailing.



•
3 Sep 16
Yes.I saved a lot of bucks.I had thought for months and months before I bought this watch.Good thing I waited.

• United States
24 Aug 16
That watch looks like it does just about everything. It is beautiful!

•
25 Aug 16
Thanks! And i like that it is not too big so it does nor look flambouyant at all.

• Paradise, California
24 Aug 16
Ooh love the looks of that one. Maybe it live long and prosper!

• Sweden
2 Sep 16
Beautiful watch..maybe I should get a watch too..??

There are watches almost everywhere, in the phone, IPad etc etc.. Do I really need one??





•
3 Sep 16
I am not like you
@buenavida
or some people are not like you. I always check the time especially when I am out so it is very convenient to me to have a wristwatch than take my phone out of my handbag everytime i check the time. I can afford to buy the watch that i want.Do you have a problem with that
@buenavida

• Sweden
3 Sep 16
@Iam_jauntyjen
- No problem, I try to avoid anything electronic on the body.. Not sure if that would be something harmful, but anyone can do some research. Besides, I am retired and work a bit at home, have not so muh times to check.. I might be able to buy a cheap watch, but not an expensive one, of course -