If you had to lose weight, what activity you would go for?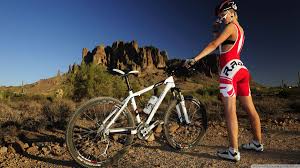 North Las Vegas, Nevada
August 25, 2016 8:33am CST
Thanks god, I am fit, I do not need to lose weight I guess, but If i had to lose weight I would definitely go for Cycling. Riding miles with my bicycle would be fun and healthy! Sustaining my body in shape, and keeping myself to the goal I want to achieve. What physical activity you would choose if you had to lose weight? Running is maybe one of the most efficient, but I would be lazier. So definitely Cycling would do the thing for me. I mean long morning rides, at least 3 mile marathon every day.
5 responses

• United Kingdom
25 Aug 16
I have been going to the gym for over twenty odd years now which keeps my weight in check, I am no serious body builder, I prefer to use the treadmill, bike and Cross Trainer. Running is good but obviously it places a lot of pressure on the joints. The cross trainer is probably one of the better machines to use because you use more muscles and it's gentler on the joints. I used to do a lot of rowing, on the rowing machine which is one of the best machines for getting rid of the midriff and you burn a lot of calories up. My gym sessions are 90 minutes where I spend 30 minutes on the treadmill, 30 minutes on the Cross Trainer and 30 minutes on the bike. Sometimes I will use the Stepper.

• United Kingdom
25 Aug 16
sorry to go off topic but it's great to see older members (years on mylot) coming back...especially UK people. I remember speaking to you years ago


• Paradise, California
25 Aug 16
I like aerobics. Feels like I'm dancing!

• Kiryat Ata, Israel
26 Aug 16
Does it build muscle mass ? How much time does an aerobics class take ?


• Malaysia
25 Aug 16
I used to be underweight, but now I have to lose weight after giving birth three months ago. I used to slim down quite quickly for my first two childbirth, but this time I got fatter and did not slim down after so long too. I already go for walking in the park with my children while carrying my baby as our daily routine. I just started to practice yoga daily, and also go jogging whenever possible, hopefully at least 3 days in a week. But going out without my baby might not be so possible, so I try to do more exercises at home.

• Kiryat Ata, Israel
25 Aug 16
I think walking is the best to do here, it burns calories and doesn't gain muscles, so the weight declines. Running strengthen muscles and so it gains some weight because the muscles are heavier than the fat. Ummm... Walking outside is even more fun if you see people, enjoy the sunrise or the sunset, breathing some fresh air. It relaxes the mind.