I miss my bedroom that I lost... Sigh...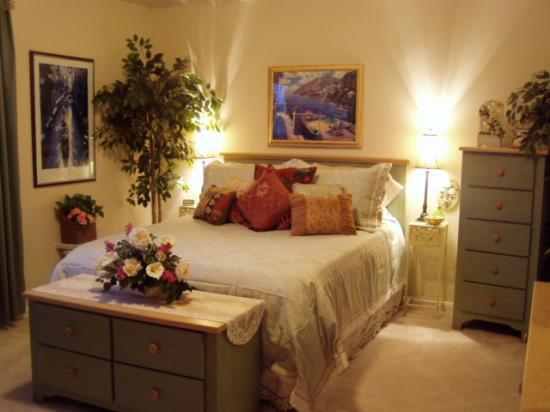 Jacksonville, Florida
September 13, 2016 6:47pm CST
I miss my bedroom that I had in my home, that I lost. It was a place of tranquility to come home to, at the end of the day. And that bed was so comfortable. I spent a few months going around town, trying out different mattress sets, until I found the right one. The mattress was a double pillow top. Plus, I added a two-inch thick orthopedic foam cushion on top. It was heaven to sleep on that thing. My bathroom was attached to the left. It had a huge garden tub; big linen closet; massive double vanity with one sink...so I had plenty of room on the countertop; and not one, but two walk-in closets. I have other pictures. Since we can only post one photo, I am posting this one.
10 responses

• Garden Grove, California
14 Sep
thats a lovely bedroom why d id you leave it?

• Jacksonville, Florida
14 Sep
It was cruelly taken from me. I would have never left it.

• United States
14 Sep
@teresatrotter
How can a house be taken? I'm not a homeowner but I can't even imagine how a house can be taken from a person unless they aren't paying the mortgage.

• Jacksonville, Florida
14 Sep
@Rajo14
- A bank bought it out. Changed my mortgage without my approval. Tripled my payments, where I could not afford it. I fought them for two years myself. Then hired an attorney, who fought for two years. He found fraud, robo signing, and other illegal issues. They still won, because of the new laws the government put into place. I did not deserve what happened. Trust me...the mortgages only protect the lender, not the buyer.


• Hyderabad, India
14 Sep
Very nice. Feeling sorry about it.

• Centralia, Missouri
14 Sep
that is quite the lovely bedroom

• Hangzhou, China
14 Sep
The bed room is rather beautiful.

• Hangzhou, China
15 Sep

• Jacksonville, Florida
14 Sep
I'm sorry you lost it. It was peaceful looking and very pretty.

• Jacksonville, Florida
14 Sep
I am sorry I lost it too. Thank you.

• Chile
14 Sep
That picture looks like out of a house magazine. How come you lost your house from one day to the other?

• Jacksonville, Florida
14 Sep
Long story. It was a four year long battle, and it was taken unfairly.


• Jacksonville, Florida
14 Sep
Thank you so much. I thought so too.