Ok, you only have 30 days to get all that candy ready to give away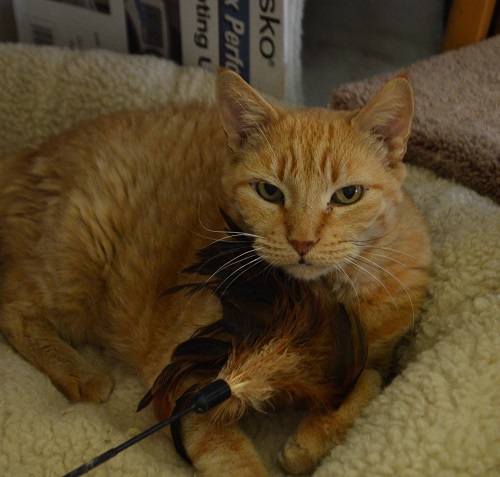 El Paso, Texas
September 30, 2016 8:18pm CST
Yep, not really that much time when ya think about it. Sooo, do kids still knock on your door on that spooky night? I miss those days when the last thing you'd see trick er treatin was a kid in a hippie or princess outfit, I mean just what is scary about either of those?? Hey, whatcha think of ole Max? He just loves those feathers almost as much as he loves to eat. He does Garfield proud don he??

7 responses



• El Paso, Texas
2 Oct 16
As can dogs
@DianneN
food is the primary motivator for most animals and when there's more than one of either the race to eat becomes primary in most cases.


• Canada
2 Oct 16
We do get a lot of kids at my house. Last year I had none because I left the lights off because my porch was torn up...its almost done, I think the kids will finish it thanksgiving weekend and if they do I will turn on my light and hand out candy this year... Max is very cool!

• El Paso, Texas
2 Oct 16
I remember the post you wrote about that project. I guess weather up yonder has a way of causing delays. Well, at least you'll get to hand out this year, that should be fun. Do you do the make up thingy to try to scare em or make em laugh? Thanks, I think he's pretty kool too, I just wish he didn't inhale the food like he does

• Canada
2 Oct 16
No I'm scary enough with no make- up
@rebelann

• El Paso, Texas
2 Oct 16
You? Scary? Not even
@PainsOnSlate
you're nice looking which means kids wouldn't be the least bit frightened ..... now, if ya painted some black straight eyebrows like Mr Spock then put some blue on your cheeks n lips with maybe some black sooty eyeshadow under yer eyes you could perhaps scare a wee one or two.

• Bangalore, India
1 Oct 16
Unfortunately i have never been able so see the celebration of Halloween when kids come to the door for candy...all dressed up and adorable...sounds like fun. I have only ever seen it in movies and such...I have heard some adults hold dress up Halloween parties and decorate their whole house with awesome scary things...

• El Paso, Texas
1 Oct 16
It is fun to do as long as no one becomes offended. I always enjoyed trying to scare kids when they would come to the door back then but almost all of them would simply laugh at me, I guess I was not that scary. Have you ever seen the Halloweentown movies by Disney? I always liked those movies and it gives a fair idea of what Halloween is about.

• El Paso, Texas
1 Oct 16
Yes they are
@ms1864
Debbie Reynolds outdid herself in them.

• United States
1 Oct 16
cute cat! I do not know what I will be this year.

• El Paso, Texas
1 Oct 16
Thanks

I used to love to try to do makeup to make me look like Mrs Spock ..... never could get it to work the way I wanted but I did scare a lotta kids and had a blast.

• Garden Grove, California
1 Oct 16
Ol M ac is a c ute cat and he muss love that feather duster judging from the look on his face. I miss those trick or treat da ys but here in the retirement center we do not get to h a nd out treats to the kids in costumes miss that.

• El Paso, Texas
1 Oct 16
Oh how sad, I wish they'd take those who wanted to a childrens hospital so you could have a little fun with kids that really need it.

• United States
16 Oct 16
*sigh* we still got candy from last year nobody ate.. maybe i'll save it for those sullen teenagers who show up without costumes.. a lot of upper teens the last few years..i guess they don't get candy otherwise?


• United States
2 Oct 16
noperz, aint had young'uns come here'n years outside 'f the grands when they lived'n these parts. folks jest don't wish to come out to the country fer the slim pickin's, lol. used to go to momma's jest to see what all costumes the young'uns were donned'n. last year i believe they'd only 8 come to the door :( seems parents'd rather drop 'em off 't one 'f the local churches 'n get a lil 'me' time versus walkin' 'round their blocks with 'em.