I have no idea to cook the ox tail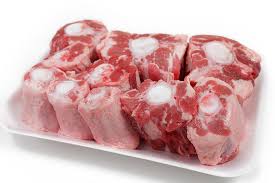 Guangzhou, China
7 responses



• Australia
23 Oct 16
I used to boil it and pull the meat and make soup .. But my husband don't like it so I don't buy it anymore ..It's actually quite nice depending on what ingredients you mix with it..

• Australia
26 Oct 16
@youless
tail is better for the soup because it's tastier .. and yes there isn't much meat in it so it is actually more expensive in the end ..

• Guangzhou, China
26 Oct 16
@epiffanie
Hard to believe that it is even much more expensive



• Switzerland
23 Oct 16
Ox tail is a specialty of the cuisine of Rome and it is very good, but it takes hours to prepare. Here is an Italian recipe if you should want to test.

Get this all-star, easy-to-follow Oxtail alla Vaccinara recipe from Mario Batali

• Philippines
23 Oct 16
Filipinos use that in a popular dish called " kare kare" or Filipino oxtail stew , its also good for soup, Cambell soup use to have oxtail soup when I was young but I think it has been discontinued. You have to be good in cleaning that cause it has a peculiar smell if you do not know how, it's also collagenous so it has this sticky goodness similar to ribs We pressure cook that with ingredents first before recooking in another pot with another set of ingredients that would become the dish, do not cook it directly and serve cause sometimes it will turn out smelly

delicious if you know how.but a little meticulous.

• Philippines
23 Oct 16
@youless
it was discontinued, they do not make anymore I wonder why, I was looking for it cause I remember my mother gave it to me whenever I was sick or weak, they will make a lot of money if they make again for the Asian market


I searched they still make I think this is Malaysian market.

SearchSearchSearchSearchGroceriesPromotionsMy FavouritesRM 5.49/eachRM 5.49Add Add to trolley View all SoupCheckoutProducts you add to your trolley will appear hereHere to helpAboutFirst time shoppingContact us© Tesco Stores (Malaysia) Sdn Bhd 2016Shop all

• United States
23 Oct 16
I do not know how to cook in general, but when we go out to an Asian restaurant, my boyfriend loves to order the ox tail soup.